Posted on
Fri, Sep 9, 2011 : 5:57 a.m.
Bus services between Ann Arbor and Ypsilanti to be expanded under new AATA plan
By Ryan J. Stanton
Ann Arbor Transportation Authority officials are expected to announce a plan next week to significantly increase transit connections between Ann Arbor and Ypsilanti.
Specifically, they want to double the number of Route 4 weekday trips operating between the Blake Transit Center in downtown Ann Arbor and the Ypsilanti Transit Center.
Route 4 has the highest number of rider boardings of any route in AATA's system. It operates between Ann Arbor and Ypsilanti primarily along Washtenaw Avenue.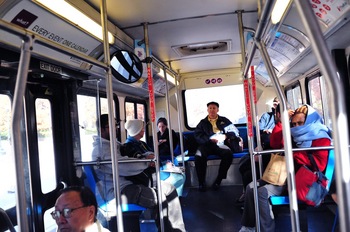 Ryan J. Stanton | AnnArbor.com
Increased bus service along Washtenaw has been needed for some time, AATA officials said, but funds haven't been available for expansion outside of Ann Arbor.
But new funds in Ypsilanti dedicated to transit service, along with preparations for implementing a new transit master plan, have AATA officials proposing an expansion.
Full details on the proposed service expansion are expected to be presented at a public rider forum planned for next week. AATA officials will respond to questions and receive comments on the proposal at the forum, as well as at several drop-in sessions in the coming month.
The forum starts at 5:30 p.m. Thursday, Sept. 15 at the Ann Arbor District Library, 343 S. Fifth Ave., in downtown Ann Arbor. It's expected to focus on proposed service expansions and detours planned for when the Stadium bridges reconstruction project begins next month.
Homayoon Pirooz, head of the city's project management unit, said the contractor for the Stadium bridges project will begin work as early as October and must finish by April 2013. Both spans over State Street and the nearby railroad tracks are being completely replaced.
The Stadium bridges project will briefly affect Route 6 (Ellsworth) and Route 36 (Wolverine Tower Shuttle). Route 14 (Geddes-East Stadium) will be shortened for an extended period.
Dates and times of rider forums and public meeting sessions are posted at www.TheRide.org and announced through MyRide, Facebook, Twitter and other media.
For more information, call (734) 996-0400.
Ryan J. Stanton covers government and politics for AnnArbor.com. Reach him at ryanstanton@annarbor.com or 734-623-2529. You also can follow him on Twitter or subscribe to AnnArbor.com's e-mail newsletters.