Posted on
Wed, Jan 25, 2012 : 2:50 p.m.
Marking progress: Stadium bridges reconstruction gets first concrete pour
By Paula Gardner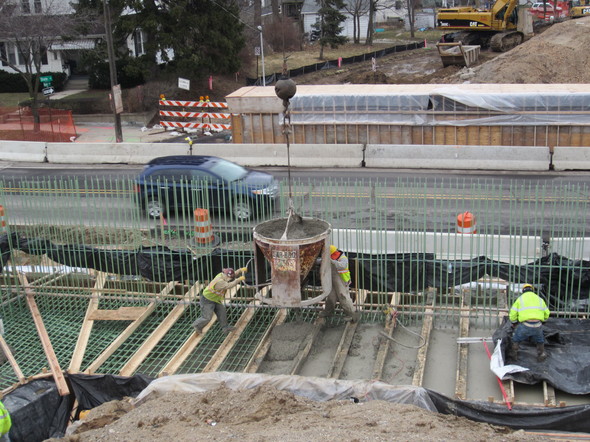 City of Ann Arbor
Drive by what used to be Ann Arbor's East Stadium bridges, and you're likely to see work crews, heavy equipment and barricades.
But something you may not realize is also part of the scene, as of this week: It's another step toward the conclusion of the $22.8 million reconstruction in the form of one key ingredient.
Concrete.
The first concrete pour at the site took place on Tuesday, and the city immortalized the event in photos and video, posting one view to its Facebook page to track bridge progress.
We thought our readers might find the images interesting, too.
The work took place from 9 a.m. to 5 p.m. Tuesday, when crews were pouring the west abutment footing for the South State Street Bridge. It continues this week - at least through Thursday.
Work will be suspended Friday while President Barack Obama visits the University of Michigan campus. He'll speak at the Al Glick Fieldhouse, just north of the construction zone.
The bridges will be closed to the public for most of 2012. According to a previous report: The project schedule says Stadium will reopen to traffic Nov. 14, but city officials have said it might not be until December. Here are the short videos showing the action: