Posted on
Sun, Dec 23, 2012 : 7:58 p.m.
Standoff between suicidal armed man, police has ended
By Sven Gustafson
Previous story: Police and SWAT teams on scene of apparent barricade situation in Ann Arbor
A standoff between SWAT teams, crisis negotiators and a suicidal man that left a neighborhood on the city's northeast side barricaded for most of the day Sunday has ended, police and the condominium association president confirmed.
Michael Mixer, president of the Chapel Hill Condominium Association, said police have told him the standoff has ended.
"I am at the office and the situation has been resolved," Mixer said. "The information I have is that the police have taken him into custody."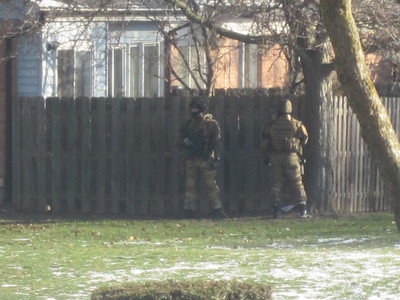 Photo submitted by Dennis Skupinski
Ann Arbor Police Sgt.
Tom Hickey
confirmed that the subject was taken into custody but had no further information. A message seeking an update was left with
Derrick Jackson
, spokesman for the Washtenaw County Sheriff's Office.
Several AnnArbor.com commenters who said they lived in Chapel Hill near the condo, which is on the 3300 block of Burbank Drive, reported hearing a number of loud bangs, which Mixer said were flash bang grenades.
Lauren Gerrity, who lives a few doors down from the home, said she saw police ram the man's door down, then heard three flash bang grenades shortly after. Police eventually wheeled the man out of the home strapped to a wheelchair, then transferred him to an ambulance.
"It's a little crazy over here," Gerrity said. "But they're done. Lights are gone, they're pulling everything away. They went through the front door with the SWAT vehicle, and the grenades went off."
Ann Arbor police responded to a call around 7:30 a.m. Sunday to check into the well-being of a male resident believed to be in his 40s at the home.
The man alluded to possessing a weapon, but police did not enter the basement where he was located, Jackson said.
"We'll call it a barricaded subject at this point," Ann Arbor Police Sgt. Mike Scherba said earlier.
"He made mention that he had a gun. But officers couldn't confirm that," Scherba said.
Washtenaw County Sheriff's Office metro SWAT and crisis negotiations teams were on the scene, Scherba said, and the AAPD had a command officer on location.
Police have released little information about the incident. Scherba told the Detroit Free Press that police were directed downstairs by the man's mother, where the man is holed up. He reportedly threatened to shoot any officer who approached him and said he wanted to end his own life.
WXYZ-TV reports that the man was visiting his mother and was upset about not being able to visit with his sons. A man who knew the family told the station he had mental health issues.
Scherba said earlier that no shots had been fired.
Photos submitted to AnnArbor.com and uploaded to Flickr by Dennis Skupinski show a sizable police and SWAT team presence, some with guns drawn.
Skupinski, who lives in Chapel Hill not far from the subject's home, said he first began wandering around taking photos of the incident around 8:30 a.m. Police later told neighbors to avoid wandering around in certain areas.
"Everybody just can't believe what's going on," Skupinski said. "Another guy was out shooting pictures, but most people are just staying indoors."
Laurie, a woman who lives across the cul de sac from the subject's home and did not want her last name used, said the neighborhood association told residents the subject may be visiting the home, not a resident.
She said police were letting residents leave only through the far end of Burbank Drive and forcing them to walk part of the way back if they return. The southern end of Burbank, at Green Road, had been closed off to traffic.
Mixer said he doesn't believe Chapel Hill suffers from much crime.
"It's never happened in the 20 years that I've been here," he said. "I don't remember an incident like this... I believe it is a safe community."
AnnArbor.com will update this story as more information becomes available.