State and federal officials get firsthand look at troubled Stadium bridges in Ann Arbor
Posted on Fri, May 14, 2010 : 4:17 p.m.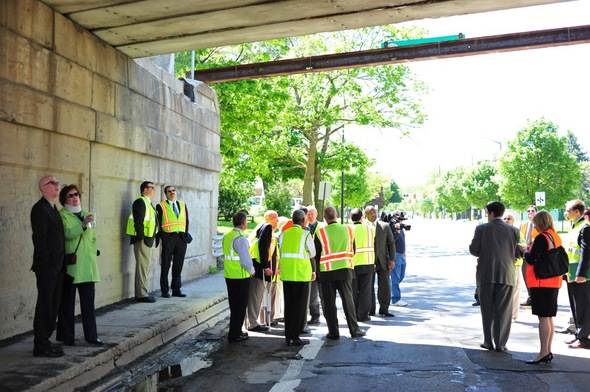 Ryan J. Stanton | AnnArbor.com
Standing in the middle of State Street in Ann Arbor, U.S. Deputy Secretary of Transportation John Porcari peered up at what remains of the failing East Stadium Boulevard bridge above.
"In non-engineering terms, it's pathetic," Porcari said of the crumbling bridge, half of which was removed last fall to avoid the risk of falling concrete. "In engineering terms, it scores 2 out of 100. This particular bridge was completed in 1917. We had not yet declared victory in World War I at that point. I think we've gotten our money's worth out of this."
Porcari flew in from Washington, D.C., today at the request of U.S. Congressman John Dingell, who also was on hand this afternoon as city, state and federal officials got a firsthand look at the failing bridges.
Mayor John Hieftje and other city officials have been in close talks with Dingell's office lately, and a whirlwind of political support is building around the city's proposal to replace the two Stadium Boulevard bridge spans that run above State Street and nearby railroad tracks.
After at least five years of trying, the city has been unsuccessful so far in getting state or federal grant money to fix the bridges. City officials say it's about a $23 million project and would cripple the city's ability to repair local streets for the next few years if it had to pay for the bridges on its own.
"Communities don't finance projects like this on their own. I don't know of another instance when it happened," Hieftje said. "We've been after those funds for quite some time, but we're very hopeful now. You can't do much more than bring the deputy secretary of transportation to town along with the congressman. Both of our national senators signed onto this project, and we just think it's something we can make happen."
Both the bridge span over State Street, built in 1917, and the span over the nearby railroad tracks, built in 1928, are functionally obsolete. Dingell's office noted heavy trucks no longer can travel over the bridges.
The city is going after the second round of federal stimulus funding for transportation improvements — also known as TIGER II. The city now is asking the federal government to cover 80 percent of the $23 million cost.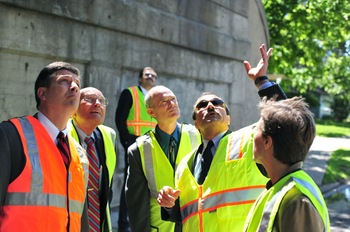 Ryan J. Stanton | AnnArbor.com
Ann Arbor was unsuccessful recently when it applied for the first round of TIGER grant funding. Earlier this year, $1.5 billion in funding was available nationwide, and the U.S. Department of Transportation received more than 1,400 applications with requests totaling $60 billion.
Porcari said the pot of money is $600 million this time. Fifty-one projects were assisted in the last round of funding, so it's realistic only about two dozen projects will be successful this time around.
"It's exceedingly competitive and, I hate to say this, but there are unfortunately bridges like this all over the country," Porcari said. "It's a generational issue where we're living off the investments our parents and grandparents made, and we're not doing the same."
But Porcari also said Ann Arbor makes a good case for its bridges. He said the Department of Transportation uses certain criteria to determine which projects receive funding. Part of that is the regional, state and national significance and economic impact of the project.
"This is a vital link to the University of Michigan, which is a regional, statewide economic powerhouse obviously," he acknowledged. "That certainly helps make the case, but we'll see. I can't predict where it ends up, but more than anything else it's illustrative of the need that's out there."
Homayoon Pirooz, head of the city's project management unit, said the city has until July to prepare a preliminary application and must submit a final application in August. He expects to hear back in October or November.
Pirooz told officials on hand today the project is badly needed. Without the bridges, he said, there would be a complete disconnect between the east and west sides of Ann Arbor and Ypsilanti to the east.
"There are so many businesses that are depending on this corridor to be around and be operable," he said. "There are transit systems that use these bridges and many more. We have the largest high school in the state on one side, and we have residents on the other side. This is the way to go from point A to point B and we need this connection."
Pirooz presented a financial plan to the City Council earlier this week that showed — in the absence of TIGER funding — it still would take $9.5 million in other federal funding and $3 million from the Michigan Department of Transportation, while the city would have to pay $10.5 million.
Other officials were in attendance today representing the Ann Arbor Transportation Authority, Ann Arbor/Ypsilanti Regional Chamber of Commerce, SEMCOG and the Washtenaw Area Transportation Study. Also there was Kirk Steudle, director of MDOT, who is championing the project now.
"If you drive over Stadium, all you know is there's a flashing arrow there and there's a lane gone and you're mad," he said. "But if you drive State Street and you look up, you realize, 'Oh, there's only half a bridge.' It's pretty significant. I mean, this is a major thoroughfare — twenty-some thousand cars in each direction. And frankly, if this bridge isn't here, this becomes a very congested intersection. So this really is a key piece in Ann Arbor and in Washtenaw County from a transportation perspective."
Steudle said bridges all over the state are in disrepair, but the Stadium bridges are particularly important because of the volume of traffic they carry and their location - a stone's throw from the University of Michigan.
"Neither of these are state trunklines, but from a transportation perspective it is a critical link, so I'm here really supporting the city, saying this needs to get fixed and we need some money to get to it," Steudle said.
Dingell's office called the bridges "vital connectors" leading to and from the U-M football stadium and athletic campus. It has been hinted recently that city leaders would like the university to chip in for the cost of repairs.
Asked to address that option, U-M spokesman Jim Kosteva recalled the university in February committed to covering nearly $500,000 worth of costs — which could have come from the city's pockets — on reconstructing North University Avenue and installing a new water line.
"This frees up funds that may be directed to the city bridges," Kosteva said, adding the university is "continuing to consider additional means to support the city in this project."
The Washtenaw County Road Commission is one of several agencies that have gone on record in support of the project recently. Chairman David Rutledge said it's a shame it has taken this long to fix the bridges.
"This bridge is so vital to the quality of life for this area," he said. "It's unconscionable that we would allow an infrastructure like this to fall into this kind of disrepair, but it is what it is and we've got to do better than this. And so that's part of this delegation today. We're trying to impress upon the deputy secretary of transportation the importance of the TIGER grant application that the city will submit It's critical that this be approved."
City Council Members Margie Teall and Marcia Higgins both represent the 4th Ward where the bridges stand. They said today they thought the deputy secretary's visit was hugely beneficial in terms of finding out specifics of what to include in the city's grant application for TIGER II funding.
"That was information that's priceless. It's our job now to make this as good as we can make it," Higgins said.
"I know this competition is going to be extraordinarily stiff, but I think it did enable us to learn from the deputy secretary what they're looking for more specifically in these applications," Teall said. "Hopefully this visit particularly will imprint in his mind what we're applying for when he sees the application."