Posted on
Fri, Jul 16, 2010 : 6:02 a.m.
State approves Willow Run school district deficit elimination plan
By David Jesse
When the Michigan Department of Education gave its approval to the Willow Run school district's deficit elimination plan, it did so with a word of caution, district officials said Thursday night.
That's because while the plan relies on cuts, it's also heavily based on seeing enrollment increases - something the district hasn't experienced for a decade.
"The deficit elimination plan has been approved with some words of encouragement and also noting that it's going to be challenging plan," said Bert Emerson, the district's interim director of finance and operations.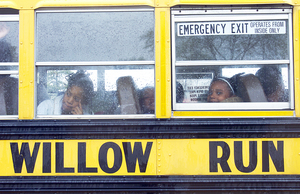 The district's $20.8 million budget for this year projects growth of 50 students in the fall.
The district has been in the red for several years and is operating under a state-required deficit elimination plan. Each year, the plan has to be updated with details about how the district is trying to get out of its deficit.

The district has estimated it would be more than $3 million in debt at the end of the 2009-10 school year on June 30. The final figure won't be known until after an audit in the fall.
The district has made some cuts and gotten concessions from the teachers union in the form of pay cuts over the course of the next several years.
But board Trustee Clifford Smith reminded people during Thursday's board meeting that cuts weren't the only thing included in the plan.
"We need everybody's help to increase enrollment. The pressure is on," he said. "A great part of this plan is increasing enrollment and not next year - by September. We've got a lot of work to do."
Acting Superintendent Laura Lisiscki said staff members are already working on identifying families that have pulled students in recent years so other staff members can contact them to try to sway them back to the district.
"The state told us, 'You said you're going to do this, now show us.' Lots of things are in motion," she said.
David Jesse covers K-12 education for AnnArbor.com. He can be reached at davidjesse@annarbor.com or at 734-623-2534.