Posted on
Wed, Jun 20, 2012 : 5:15 p.m.
State erects 8-foot fence to keep homeless from returning to Camp Take Notice site
By Ryan J. Stanton
Related story: Camp Take Notice residents prepare to leave homeless encampment as deadline looms
Thursday update: Enforcement plan uncertain as eviction deadline nears at Camp Take Notice
The state is putting up an 8-foot-tall, chain-link fence to block a homeless encampment from returning to a nearly 9-acre site on a state highway median west of Ann Arbor.
It's just one of the precautionary measures being taken as the state shuts down Camp Take Notice, said Mark Sweeney, a regional manager for the Michigan Department of Transportation.
"We've been hearing from the community and from Camp Take Notice that the homeless have been using this area for a long time as a makeshift home," Sweeney said, adding there have been complaints from nearby residents that the homeless have left the area a mess.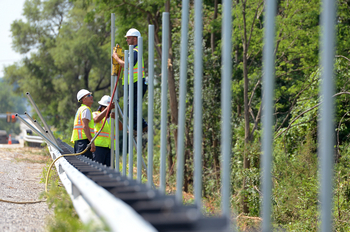 Melanie Maxwell I AnnArbor.com
"We really wanted to resolve the issue once and for all," he said. "So after the camp is closed, we'll be closing off the area."
Sweeney added, "It's not against Camp Take Notice specifically, but more to prevent a homeless encampment of any kind in this location."
Workers were out erecting metal poles for a fence along Wagner Road between the street and what is currently Camp Take Notice on Wednesday. Sweeney said the fencing will run along Wagner Road and then about 150 feet up Interstate 94 and M-14.
Representatives of MDOT and the Michigan State Housing Development Authority, which is working on a housing program that provides camp residents with one year's rent, said they didn't know the cost of the fence. Sweeney acknowledged there have been concerns that the fence might be unsightly, but he said keeping the homeless out is of greater concern.
With the scheduled shutdown of Camp Take Notice two days away, residents of the homeless encampment who are now in line to move into subsidized housing told AnnArbor.com on Wednesday they have no complaints and are happy to be moving into homes.
Scio Township resident Joe DaSilva, who is glad to see Camp Take Notice coming to a safe end, said he drove by and noticed the fence going up.
"The good thing is they're going to find a better place to live," he said of the homeless. "They've not had a good experience there recently. That is not the place for them to be."
As for the fence, DaSilva said he's not worried about it.
"If it keeps them out of there, I'm actually kind of happy," he said. "They obviously wanted to be there even when they were told they can't, so hopefully that's going to keep them out. I guess every other option hasn't worked, so this is what has to be done."
Ryan J. Stanton covers government and politics for AnnArbor.com. Reach him at ryanstanton@annarbor.com or 734-623-2529. You also can follow him on Twitter or subscribe to AnnArbor.com's email newsletters.