Posted on
Thu, Jul 11, 2013 : 2:15 p.m.
State representatives Irwin, Driskell join House Dems in announcing fracking safeguard legislation
By Amy Biolchini
State representatives Gretchen Driskell, D-Saline and Jeff Irwin, D-Ann Arbor, announced Thursday in Ann Arbor two bills they're sponsoring as a part of an eight-bill package that could bring safe guards to the controversial practice of hydraulic fracturing, or fracking.
Fracking is a practice used by the oil and gas industry in which a mixture of water, sand and chemicals known as brine are forced into drilled wells, fracturing the thin layers of rock between pockets of oil and gas to access more of the resource.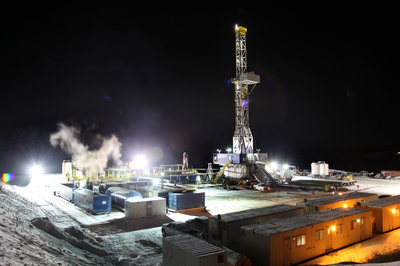 Courtesy of U-M School of Engineering
Companies do not have to disclose the chemicals they add to brine water, which are regarded as a trade secret.
The package of eight bills comes as a Canadian firm, Encana Corp., has proposed 500 natural gas frack wells in northern Michigan that would use more than 4 billion gallons of groundwater for its operations.
House Democrats backing the package started a website to support their fracking legislation: protectmiwater.com.
Irwin's legislation -- House Bill 4900 -- would require that companies be forced to disclose those chemicals in order to receive a fracking permit from the state. The legislation also demands the use of a tracer chemical by fracking operations in order to know if groundwater has been contaminated.
"These deep, horizontal fracking operations should disclose the chemicals they are pumping underground, and they should be held publicly accountable for their massive water use," Irwin said in a statement. "Nobody should be allowed to pump a nearby creek or well dry. My colleagues and I are introducing legislation to make sure this process is safe and transparent."
Oil and gas wells are regulated by the state. The Michigan Zoning Enabling Act prevents townships and counties from adding additional restrictions or regulations to their operations -- which Driskell's proposed legislation seeks to change.
Under House Bill 4904, counties and townships could regulate the operation, location and abandonment of wells. The legislation would not be able to prevent fracking as a practice from taking place.
"My bill allows local control of where fracking sites can be located," Driskell said in a statement. "I believe it's important for our citizens to participate in the decision-making process when issues like this impact them right in their backyard."
Other bills included in the package include:
House Bill 4903, sponsored by Rep. Sean McCann: Would require drilling operations that use an average of 100,000 gallons of water per day or more to screen for adverse impacts on water resources
House Bill 4901, sponsored by Rep. Marcia Hovey-Wright: Would require state to study public health, environmental and natural resource impacts associated with fracking
House Bill 4899, sponsored by Rep. Sarah Roberts: Would require public participation in the permitting process
House Bil 4902, sponsored by Rep. Rashida Tlaib: Would make the fracking operation liable if fracking chemicals or tracer chemical is found in groundwater
House Bil 4905, sponsored by Rep Tom Cochran: Would prohibit water that comes out of a frack well from being used as a dust suppressant on dirt roads
House Bill 4906, sponsored by Rep. Vicki Barnett: Would increase setback requirements from residential areas for frack wells to 1,000 feet for all areas.
Irwin and Driskell were joined Thursday by State Rep. Adam Zemke, D-Ann Arbor.
Amy Biolchini covers Washtenaw County, health and environmental issues for AnnArbor.com. Reach her at (734) 623-2552, amybiolchini@annarbor.com or on Twitter.