Posted on
Tue, Jun 14, 2011 : 2:22 p.m.
Feral pigs in Michigan: State senator pushes for outright ban
By AnnArbor.com Staff
Sen. Rick Jones wants feral swine out of Michigan.
Today in Lansing, he introduced plans to make a state administrative ban on the wild pigs a law, MLive.com reported.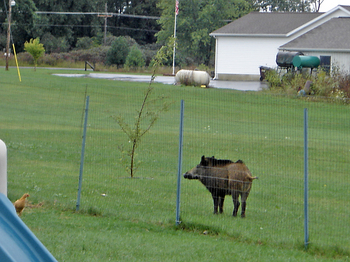 MDNRE photo
While a
Michigan Department of Natural Resources and the Environment
order declared
feral pigs an invasive species
in summer 2010, questions about how to regulate wild boar at hunting facilities, and what to do with breeders supplying them, were left unanswered.
The DNR set a July 8 deadline for lawmakers to come up with a solution, AnnArbor.com reported in March. Currently, the Legislature could decide to regulate, rather than totally ban, the animals.
Jones' proposal would make the invasive species order a state law, an idea applauded today by state agriculture leaders.
"Feral swine are the most serious invasive species threat Michigan faces today, and demands a serious response. Sen. Rick Jones deserves credit for putting Michigan jobs and Michigan's future ahead of an invasive species," said Sam Hines, executive vice president of the Michigan Pork Producers Association, in a statement.
The wild pigs can carry diseases that infect livestock, and cause damage to crops and habitat, according to the MLive article.
A shooting preserve in northern Washtenaw County is one of at least 50 statewide offering boar hunts. County residents reported two feral pig sightings and two kills in 2010. The sightings and kills occurred in Bridgewater and Saline, Lodi and Pittsfield townships.
Past AnnArbor.com coverage: