Posted on
Tue, Dec 4, 2012 : 5:57 a.m.
Statistics: Washtenaw County motorcyclists without helmets more likely to be injured
By John Counts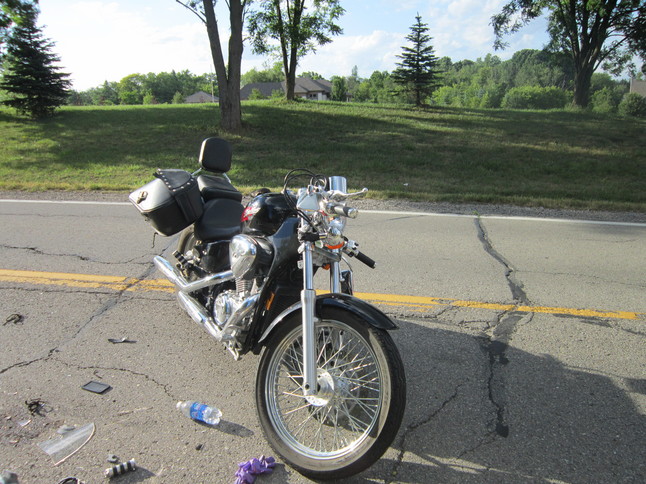 Courtesy of the Michigan State Police
Statistics show helmetless motorcycle riders in Washtenaw County are more likely to suffer an "incapacitating injury," according to state police records.
MLive and AnnArbor.com examined state police data for nearly 3,000 motorcycle crashes - with and without helmets - in the six months after Michigan's helmet law was repealed, April 13 to Oct. 13.
Since Gov. Rick Snyder and lawmakers changed the state's 35-year-old law six months ago, there have been at least 700 motorcyclists without helmets involved in accidents.
Both statewide and countywide, the data show motorcyclists who don't wear helmets are more likely to suffer injuries.
In Washtenaw County, there were three reported motorcycle fatalities from April 13, 2011 to Oct. 13, 2011 according to the records. All were wearing helmets. In that same period in 2012, there were two fatalities, neither wearing helmets. One occurred Aug. 3 on Pontiac Trail in Salem Township. It involved a 40-year-old Northville man who died when a car slammed into his broken-down motorcycle as he sat on it in the roadway.
The other was Scott Pohl, whose parents think he may have been saved if he had been wearing a helmet. AnnArbor.com spoke to his parents. Read the full story here.
While fatalities were down overall, the amount of "incapacitating injuries," the phrase used on traffic accident reports, increased in that timeframe. In 2011, 11 riders wearing helmets were reported as suffering "incapacitating injuries;" in 2012, that number was 19. Eight of the 19 riders -- or 42 percent -- in the accidents were not wearing helmets.
From April 13 to Oct. 13 2012, there were 105 motorcycle accidents in Washtenaw County where it was indicated in the report whether a helmet was worn or not. Out of that 105, there were 77 accidents where riders rode with helmets and 28 where riders went helmetless. Fourteen percent of riders with helmets suffered "incapacitating injuries." The number was 28 percent for helmetless riders.
Statewide, cyclists without helmets were 43 percent more likely to suffer "incapacitating" injuries. Of more than 100 deaths, they were three times more likely to be killed, according to MLive.
Helmetless operators were at fault 50 percent of the time, compared with 41 percent for those with helmets across the state. They also were more likely to have been drinking, one in seven compared with one in 17 with helmets.
The law that allowed motorcyclists to ride without a helmet was introduced in the Michigan state Senate on March 24, 2011, and passed on June 28. In April 2012, if certified for two years or more, it was legal to ride helmetless.
See a digest of AnnArbor.com and MLive.com's coverage of the series Uneasy Riders, a five-day special report on the aftermath of Michigan's new helmet-choice law.