Posted on
Tue, Jul 20, 2010 : 5 p.m.
Ann Arbor's Stephen Postema reelected as president of statewide municipal attorneys association
By Ryan J. Stanton
Ann Arbor City Attorney Stephen Postema has been reelected by his peers to lead municipal attorneys across Michigan.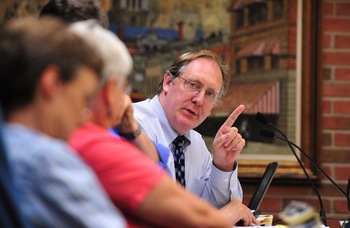 Ryan J. Stanton | AnnArbor.com
Postema, city attorney since 2003, was unanimously reelected as president of the Michigan Association of Municipal Attorneys during the group's annual meeting last month, the group announced today.
Postema was the 2009-10 MAMA president and was reelected to lead the group for a second year, said Bill Mathewson, secretary-treasurer for MAMA and General Counsel for the Michigan Municipal League.
As president, Postema also chairs the Michigan Municipal League's Legal Defense Fund, which provides support to Michigan communities involved in significant litigation or other forms of controversy that could affect the organization, operation, powers, duties or financial obligations of Michigan municipalities.
In the next year, Postema said he plans to continue the work of his prior year as president, including reviewing legal briefs on various cases to the Michigan Supreme Court and reactivating MAMA's legislative action committee. The legislative committee forms strategies on tackling potential legal issues facing Michigan communities.
"Stephen has done an excellent job leading the organization for the past year and it was an easy decision for the membership to give him a second term," Mathewson said in a statement. "Stephen has provided important perspective in the analysis of legal issues and the filing our Friend of the Court briefs in high-impact cases, such as property taxation, governmental immunity and land use."
Postema, a 1977 Ann Arbor Pioneer High School graduate with degrees from Harvard University and the University of Wisconsin Law School, said in a statement he was honored to be reelected president.
"It's a great honor to be selected by my peers to help lead this organization," Postema said. "This group is leveraging the collective knowledge of municipal attorneys throughout the state to make real changes for Michigan communities."
Postema has been recognized for the past several years by "Super Lawyer" magazine for his litigation expertise and legal reputation in Michigan. He began his legal career as a judicial clerk to then Chief U.S. District Court Judge John Feikens in Detroit.
Prior to serving as Ann Arbor's city attorney, Postema was a partner at Bodman LLP in Ann Arbor, where he specialized in commercial and employment litigation and practiced regularly in both federal and state courts. He has served as a mediator, facilitator, and arbitrator in numerous employment, commercial and negligence cases.
He has also taught and written about a wide variety of legal issues. He received the Distinguished Supreme Court Brief Award in 1998.
Ryan J. Stanton covers government and politics for AnnArbor.com. Reach him at ryanstanton@annarbor.com or 734-623-2529.