Posted on
Wed, Feb 3, 2010 : 6 a.m.
Stewart Beal presents Thompson Block plan to Ypsilanti City Council
By Tom Perkins
Developer Stewart Beal detailed plans for stabilizing and renovating the Thompson Block building at Tuesday night's Ypsilanti City Council meeting.
In the city-mandated presentation, he asked for an extension on his traffic control order allowing his company, Beal Properties LLC, to block part of the River Street public right-of-way until Nov. 30. In exchange, he promised to pull support beams extending into River Street's northbound lanes out of the road and onto his property by March 15.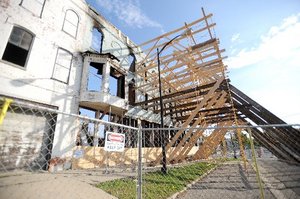 Angela Cesere | AnnArbor.com
Beal also provided a schedule for progress on plans for the Thompson Block, a historic building that was severely damaged in a fire last fall.
After Beal presented his two-part plan, Council Member Pete Murdock questioned whether the schedule could be "compressed."
Beal said he would prefer have the entire time because the work is difficult and requires small teams of experienced workers.
"We have 100 employees, but there's no way to throw all 100 employees at it," he said. "It's more like a two- to five-man team effort to do it safely."
Beal dubbed the first phase the plan "retreat from the street," which he said involves stabilizing the facade.
He said the long-term goal is to "build an entirely new building inside the old building." Maintaining the facade on the 148-year-old structure will allow Beal Properties to obtain historic structure tax credits through the State Historic Preservation Office, which city officials previously said were necessary to keep the project financially feasible.
Beal said the first step in phase one is to pull all fire debris out of the basement and fill it in to solidify the foundation, per his engineers' recommendations. He expects the steps to be done by May 30.
By Aug. 30, Beal said all necessary interior structural support on the Cross Street side will be installed, and his company will "return both sidewalk and street to public use." The River Street side of the structure will be secured by Nov. 30.
"Under this plan, we will be completely out of the public right-of-way by next winter," he said.
The plan's second phase involves renovating one-third of the structure that wasn't damaged by the fire. Beal said a bar-restaurant will occupy the north part of the building, which will become 408 N. River St. The damaged part of the building will remain 400 N. River St.
Beal said he anticipates starting and completing construction of the north third of the building in 2010.
"That will allow us in the community to look up at the building and see activity and see that something is being done there," he said.
When pressed for a schedule for 408 N. River St., Beal said he's waiting on the tenant, who has been presented with a lease and is modifying a business plan to seek financing.
"The bar-restaurant is not my baby, so to speak," he said. "I've done all I can to date to move that forward, and we've put it in the tenant's hands."
Tom Perkins is a freelance writer for AnnArbor.com. Reach the news desk at news@annarbor.com or 734-623-2530.