Posted on
Wed, Dec 19, 2012 : 2:59 p.m.
Storm to bring wet, snowy weather to Ann Arbor Friday for first day of winter
By Amy Biolchini
A large storm working its way east from the Rocky Mountains is expected to bring wet, snowy weather into Ann Arbor Friday in time for the first day of winter.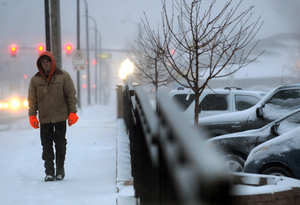 Melanie Maxwell | AnnArbor.com
The
National Weather Service
is calling it "the first major winter storm of the season."
More rain is expected Wednesday and Thursday nights.
Thursday's high temperature of 47 degrees is forecast to drop to 30 degrees Thursday night, turning the rain to snow.
There's a 70 percent chance of snow Friday during the day for Ann Arbor, when the temperature is expected to reach a high of 34 degrees.
For Ann Arbor and much of Southeast Michigan, snow accumulation likely will not be more than an inch.
Gusts of wind are expected to increase from Thursday into Friday, when maximum wind gusts of 41 mph are projected.
The cold weather likely will carry through the weekend and into Christmas Day, according to the National Weather Service.
Though the storm is projected to drop four inches of snow throughout the Great Plains states and in parts of Wisconsin, the prognosis for Michigan varies across the state.
Amy Biolchini covers Washtenaw County, health and environmental issues for AnnArbor.com. Reach her at (734) 623-2552, amybiolchini@annarbor.com or on Twitter.