Posted on
Fri, Jul 23, 2010 : 10:22 p.m.
Storms down trees, knock out power across Washtenaw County
By Amalie Nash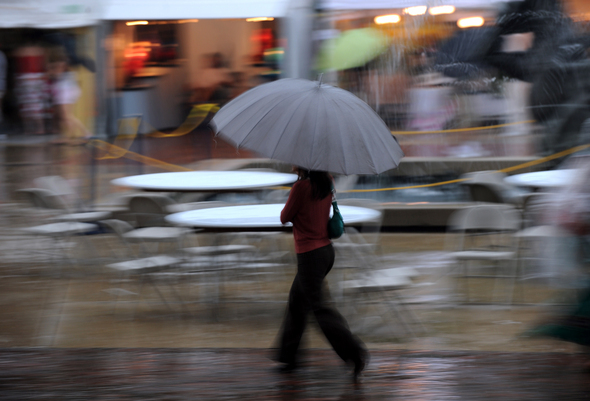 Lon Horwedel | AnnArbor.com
July 24 update: 15,000 still without power in Washtenaw County - and more storms on the way
Thunderstorms slammed Washtenaw County this evening with winds reaching up to 82 mph in Milan and widespread power outages and downed trees, officials said.
The worst hit areas appear to be Dexter, Saline and Milan, according to the Washtenaw County Emergency Operations Center.
The storms that moved through around 6:30 p.m. resulted in high winds and many trees blocking roads, but no injuries have been reported, officials said.
Winds up to 62 mph in Ypsilanti and 82 mph in Milan were reported, said meteorologist Steve Freitag of the National Weather Service at White Lake Township.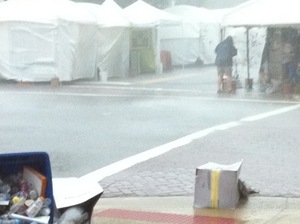 Freitag said meteorologists received many reports of funnel clouds, but no tornado touchdowns.
A dispatcher with the Saline Police Department said police have received multiple reports of trees and wires down throughout the city, but no injuries have been reported. A roof of a building at 131 E. Michigan Avenue was lifted and slammed down during the storm, officials said. The apartments are above downtown businesses.
Department of Public Works employees were called in to remove trees and assess damage. "It's chaotic," the dispatcher said.
The storms came through the Ann Arbor Art Fairs during what would normally be a busy Friday evening. Marc Breckenridge, director of the county's emergency operations center, said his office began notifying art fair officials of the impending storms when they were about an hour away.
"It happened quickly, and we told them the storms were moving fast," Breckenridge said. "It was quite the wind storm, especially in Milan. That's what happens with a tropical air mass."
The storms dumped about 2 inches of rain on Chelsea, the hardest hit by the downpour, and about one inch elsewhere, Breckenridge said.
"That's actually great news because with all the rain still coming, it's not as bad as it could have been," he said.
A DTE power outage map updated at 7:46 p.m. showed widespread outages in Washtenaw County, with many customers in Ypsilanti, Pittsfield Township and Saline in the dark.
Freitag said some flooding was reported in Metro Detroit.
Another storm swept through the area later in the evening, dumping more rain, but additional severe storms missed Washtenaw County.
At 10:15 p.m., the National Weather Service canceled the severe thunderstorm watch, but a flash flood watch was to remain in effect until midnight.