Posted on
Tue, Feb 19, 2013 : 10:18 a.m.
Student recounts experience with Huron River Watershed Council bug identification project; Lincoln hosts archery shoot Feb. 24
By AnnArbor.com Staff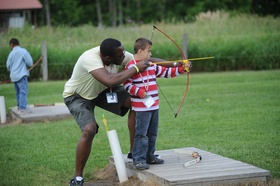 Photo courtesy of Camp Michitanki
From a local student describing what it's like to participate in a "Bug ID Day" with the Huron River Watershed Council to an archery shoot Feb. 24, here's a roundup of some of the stories posted on AnnArbor.com's Community Wall over the last few days:
By: shsstudent: Bug ID Day with the Huron River Watershed Council
For anyone who has an interest in insects or a desire to assist in environmental data collection, Bug ID Day offers a unique and interactive volunteer experience.
By: David Hallenbeck: Lincoln Bowmen's 3D Cupid Archery Shoot
Sunday, February 24nd, 2013 Lincoln Bowmen will be hosting their annual "Cupid 3D Archery Shoot". Ladies shoot for FREE.
By: Erin K. O'Neill: Fabulous Web Designer Wanted to Join Expanding Digital Marketing Agency
By: @shinydigs: Attention Michigan Football Fans! Give a student project your thoughts!
By: Deb Kern: Pet Loss Support Group Meeting on Sunday

By: Daniel R. Taylor: Particpants needed for study on Middle-Eastern Youth and Technology Adoption

By: FreedomSpeech: Behind the Scenes at CNN - UNCENSORED
By: Chris Kochmanski: Cultural Studies at Daycroft Montessori School of Ann Arbor Culminate in School-wide Performances and Presentations on American Experiences and World Music
By: LSC: "Wellness Essentials: What Experts Think & Do"
By: Jill Crane: Introduction to Emotional Free Technique
By: AMC: Was Prophet Muhammad a messenger of Peace? The real story
By: Jan Hack: "Descubre Tu Verano" February 16, 2-4 p.m. or February 20, 6:30-8:30 p.m. at Ann Arbor Y and New Program: Pedaling for Parkinson's! Informational Meeting 2/19, 7:00 p.m. at the Ann Arbor Y

AnnArbor.com's Community Wall is a spot for local people to post local stories, news and announcements. To post a story, sign in to AnnArbor.com, then go to www.annarbor.com/community and use the Got News? Tell Us function at the top to submit your news. If you have a photo to add, e-mail it to us at community@annarbor.com, and we'll insert it into your story.