Posted on
Thu, Oct 14, 2010 : 4:15 a.m.
Students commemorate John F. Kennedy's 'Peace Corps' speech at the Michigan Student Union
By Tom Perkins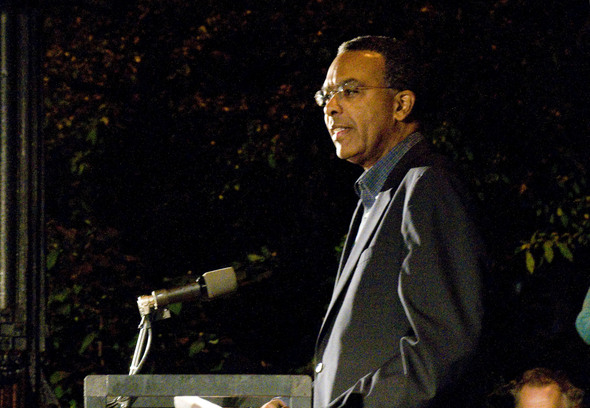 Tom Perkins | For AnnArbor.com
Fifty years ago, then-presidential candidate John F. Kennedy challenged a crowd of 5,000 students on the steps University of Michigan Student Union during a 2 a.m. speech to serve in developing countries in the name of peace.
"How many of you who are going to be doctors are willing to spend your days in Ghana? Technicians or engineers — how many of you are willing to work in the Foreign Service and spend your lives traveling around the world?" Kennedy asked.
The U-M community answered that call with an unexpected enthusiasm, and many credit those students and faculty in 1960 with helping to convince Kennedy to develop what would become the Peace Corps.
Exactly 50 years later to the hour, roughly 1,500 students, faculty and Peace Corps veterans stayed up late and braved the rain to commemorate the 50th anniversary at the exact spot Kennedy announced his vision on that campaign stop.
Since the program's inception shortly after Kennedy took office in 1961, 200,000 students — 2,200 of them from Michigan — have served in the Peace Corps.
Speakers applauded Michigan's students for their efforts and role in pushing for the program and not letting it "become just another idea." Peace Corps Director Aaron Williams credited the students with "sparking" the culture promoting activism and involvement that makes the program — and U-M campus — a success.
Steve Weinberg, a current student and founder of Will Work For Food, said the night was as much about celebrating the launching of the Peace Corps it was a "celebration of our students who responded."
Ernie Zaremba, 69, was one of those early students who quickly got involved with the fledgling program in 1963. He traveled to what is now Tanzania to work on roads and bridges "in the bush."
Zaremba said he enlisted for the adventure but came away with a transformational experience. Now a retired teacher, he and his wife run the Peace Corps Reunion Project, which reconnects those who traveled to encourage returned Peace Corps volunteers to reconnect with those they helped and worked with.
"It matters to those people that you remember them, and you weren't just there for two years then gone," he said.
Alan Guskin was one of the early student leaders involved pushing for the Peace Corps. He told students his generation was expected to study, go to school and were dubbed "the quiet generation."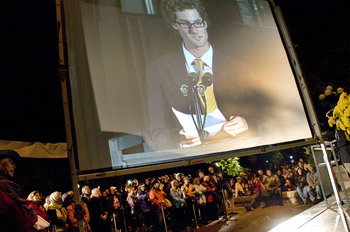 Tom Perkins | For AnnArbor.com
But several black students in North Carolina staged a sit-in at a diner that served only whites in 1960, which helped inspire his group to get involved in social change and play a larger role in shaping the world
"We did choose to make a difference," Guskin said. "It felt like it was the passing of the torch."
He told those in the crowd it is now up to their generation to make a difference, and the key is "keeping faith over time" and persevering in the face of adversity.
Several students said they already planned to join the Peace Corps and found the event inspiring. Freshman Jihad Komis is one of the doctors Kennedy challenged to help abroad. He said he plans to join Doctors Without Borders.
"It's such an amazing thing to serve people who need it and to give back by providing a service unique to the world," he said.
Rebecca Cunningham is a first-year grad student in the social work program and shook Williams' hand after the speech. She came out for the event because she's looking to get more involved in her first year here since moving from California. She said she hopes to eventually to join the Peace Corps and apply her knowledge and skills in an environment where she can "join forces with someone who needs me."
Tom Perkins | For AnnArbor.com
Craig Schlicht is in the middle of his two-year service in Jamaica, but came home for a quick vacation to see his family and today's early ceremonies. He started serving a Jamaican community as a sanitation engineer, working on schools and water systems.
Schlicht said he joined the Peace Corps after grad school because "I got sick of working on Walmarts and subdivisions — it just wasn't fulfilling."
Immersion in a foreign culture where people speak a different language provided Schlicht a crash course in growing up.
"I can say that I'm more confident in myself and more mature after one year in the Peace Corps than I was after four years at college," he said.
Tom Perkins is a freelance writer for AnnArbor.com. Reach the news desk at news@annarbor.com or 734-623-2530.