Posted on
Sat, Sep 7, 2013 : 9:35 a.m.
Students, fans from both U-M and Notre Dame flock to GameDay telecast
By John Counts
Melanie Maxwell | AnnArbor.com
They came from as far away as Florida and North Carolina to Ann Arbor for the big University of Michigan-Notre Dame football game at 8 p.m. Saturday.
Even though kick-off wasn't for 12 hours, at 8 a.m. fans were already out en masse showing support for their teams with signs, costumes and even hair-dos at Ingalls Mall on U-M's campus for a telecast of ESPN's "College GameDay".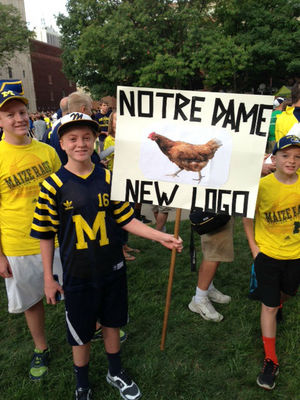 John Counts | AnnArbor.com
Some of the signs, like "Notre Lame," were pretty easy to interpret. Many referenced U-M football coach
Brady Hoke's's "chicken" comment,
about the ending of the long-standing rivalry, with comments such as "Cluck of the Irish."
Kyle Schultz of Brighton got into the spirit, too, holding a sign with a chicken on it with the words, "Notre Dame New Logo" on it.
"Brian Kelly said it wasn't a real rivalry," Schultz said. "He chickened out."
U-M senior Jade Warner was clad in a maize and blue outfit .
"I thought I'd do something big," he said about the outfit. "I'm enjoying (GameDay) so far."
Notre Dame fans were also getting into the action.
Russ and Robin Paige had a sign that said "Kiss my dog, he's 'Irish.'" Sure enough, their spaniel was right next to them. And his name is Irish. The Paiges said they've been coming to Ann Arbor for years for the Michigan-Notre Dame game.
"We drove all the way from the mountains of North Carolina last night," Russ Paige said. "We don't want to see the ... series end." The couple and their pooch welcomed numerous U-M fans who walked up to give Irish a pet — despite the rivalry.
Russ Paige said he's always had a great experience in Ann Arbor for the game.
"If we weren't Notre Dame fans, we would be Michigan fans," the Boone, N.C., resident said.
Another Notre Dame fan, Liam Kane, wasn't satisfied with a temporary sign. He got his Irish pride shaved into his head.
The Notre Dame junior had "ND" and the school's leprechaun mascot buzzed into his head at a barber shop in South Bend, Ind. yesterday before hitting the road for Ann Arbor.
John Counts covers cops, courts and GameDay events for AnnArbor.com. He can be reached at johncounts@annarbor.com or you can follow him on Twitter.