Posted on
Sat, Sep 7, 2013 : 2:30 p.m.
Students start waiting 22 hours before Michigan-Notre Dame game for front-row seats
By John Counts
Courtney Sacco | AnnArbor.com
Die-hard student fans started waiting outside the Big House as early as 10 p.m. the Friday night before Saturday's University of Michigan-Notre Dame football game to ensure they got a front-row spot in the student section.
Four sophomores who were at the front of the line around 1 p.m. Saturday said they arrived around 10 p.m. Friday, parked a car at a friend's house in the area and took shifts sleeping and waiting on Greene Street until they were allowed to officially line up at 11 a.m. — more than 12 hours later.
Even then, they still had hours to wait for the kickoff.
The scene was markedly different than the week before, when only 32 people were in line by 9 a.m. for seats under the new policy implemented this year that did away with reserved seats for students
Adam Feingold, a sophomore studying neuroscience, Neil Syal; a sophomore studying mechanical engineering; Chris Reynolds, a sophomore studying aerospace engineering; and Sarah Lyyski, sophomore studying human physiology agreed the wait was worth it.
"It's a classic rivalry," Lyyski said. "At least one time this year, with the new general admission, I wanted to get down in the front row."
The fact that the contract Michigan and Notre Dame will be taking a hiatus from their rivalry also played a part, Lyyski said. Next year's game in South Bend will be the last between the two rivals for a while. The four friends concocted the plan to wait overnight spontaneously about 10 minutes before they arrived on Greene Street Friday night.
Soon after, they encountered Aaron Grzegorzewski, a junior studying nuclear engineering from Cincinatti, who got there with friend Allie Engelhart, a junior marketing major.
The two self-described "battle buddies" got there around 10:30 p.m. to wait on Greene Street.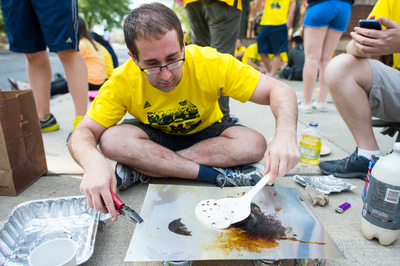 Courtney Sacco | AnnArbor.com
"I hate Notre Dame," Grzegorzewski said. "It's not too deep into school yet. I was pretty excited to get out here to be in the first row for the game. I cannot tell you how many texts and Snapchats I've gotten from my buddies who are out drinking right now who won't know what it will be like to be in that first row."
Engelhart admitted it "took a lot of convincing" to start waiting to get into the stadium more than 21 hours before the game started.
"It was fun, a little bit cold, but fun," she said.
Grzegorzewski estimated there were about 10-15 people on waiting on Greene Street at 2 a.m. By 8 a.m., he said there were about 50-60 people. The strangers quickly bonded.
"We're a family now," Lyyski said.
Rob Law, a senior studying biomedical engineering, got to the stadium at 4:30 a.m. The senior said under the old rules, he wouldn't have had to wait and said the pizzas and water being handed out around 1 p.m. to all the students waiting in line were a type of peace offering from the Athletic Department.
"I was born and raised a Michigan fan," said Law, who grew up in the Ypsilanti-Saline area. "I've always had a passion for the game. "I told my friends and they all thought I was crazy for coming out here this early."
John Counts covers cops and courts for AnnArbor.com. He can be reached at johncounts@annarbor.com or you can follow him on Twitter.