Posted on
Wed, Sep 15, 2010 : 5:58 a.m.
University of Michigan study: Medical students hide depression
By Juliana Keeping
Depression is stigmatized in the hyper-competitive pressure-cooker known as medical school.
And that's a real problem, according to new research from the University of Michigan.
A study published Wednesday in the Journal of the American Medical Association says medical students suffering from depression feel revealing their illness could be a risky career move.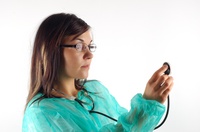 Losing respect and being perceived as unable to cope or handle medical responsibilities were common concerns among those who reported moderate to severe symptoms of depression, according to the study. It involved students enrolled at the U-M Medical School over three months in 2009.
"These results show that students who are depressed feel highly stigmatized by their fellow students and faculty members," Thomas L. Schwenk, the lead author on the paper and the chair of U-M Department of Family Medicine, said in a U-M press release.
"Medical students are under extraordinary demands," he continued. "They feel they are making life and death decisions and that they can never be wrong. There is such tremendous pressure to be perfect that any sense of falling short makes them very anxious."
Schwenk said that while the stigma associated with depression in the general population appears to have waned, the medical field and — particularly the hyper-competitive, pressure cooker medical school environment — is sorely lagging behind.
And that has to change.
U-M and many other medical schools have confidential resources available to students suffering from depression. But the depression stigma among medical students remains worrisome.
"If medical students are critical of each other about depression, how does that transfer to patients? We don't want the medical education experience to make them less tolerant of mental illness," he said.
Schwenk will continue the research by following the students studied through their training.
Juliana Keeping is a health and environment reporter for AnnArbor.com. Reach her at julianakeeping@annarbor.com or 734-623-2528. Follow Juliana Keeping on Twitter