Posted on
Mon, Oct 22, 2012 : 2:16 p.m.
Study reveals impact of tougher graduation requirements on Michigan high schoolers
By Danielle Arndt
Fewer students are graduating from high school on time due to the state's Michigan Merit Curriculum, according to a new study.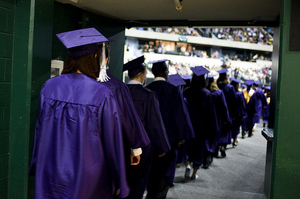 AnnArbor.com file photo
The
Michigan Consortium for Educational Research
analyzed data from 700,000 students enrolled in Michigan's public high schools to examine the effects of the state's tougher graduation requirements, which went into effect in 2006.
The merit curriculum requires all high schoolers to take Geometry, Algebra I, Algebra II, Biology I, either physics or chemistry, four years of English and two years of a foreign language.
The first cohort of students covered by the curriculum entered ninth grade in fall 2007 and would have been scheduled for an on-time graduation in spring of 2011.
However, "the merit curriculum appears to have prompted some students to extend their stay in high school beyond the traditional four years, perhaps in an effort to meet the more rigorous curricular requirements," the study found.
The introduction of the merit curriculum reduced graduation rates slightly for students who entered high school with weak academic skills, according to the study. For those who had strong skills to begin with, the curriculum did not have an impact on their high school completion rates, according to the analysis released today by the Consortium for Educational Research.
The statewide average four-year graduation rate fell from 72 percent to 70 percent in 2011 and the five-year dropout rate rose slightly.
The study shows the merit curriculum reduced the five-year graduation rate among lower-achieving students by about 4.5 percent (from 49 percent to 44.5 percent).
The best-prepared students saw better performance in science, reading and math, the study revealed; but all students experienced declines in writing scores.
"The findings of this first study are important and must be seen as a diagnostic tool for our teachers, administrators, and education leaders," State Superintendent Michael P. Flanagan said in a news release. "The Michigan Merit Curriculum is the right direction and must be maintained. We need to delve deeper now and see how we can help schools deliver it successfully to every student in Michigan."
The merit curriculum also resulted in personnel changes across Michigan's high schools, with schools employing more teaching staff in the areas of math and science.
"Between 2004 and 2011, the overall number of high school teachers in Michigan fell. However, with the introduction of the MMC it appears that schools and districts focused their limited resources on teachers who taught core academic subjects," Kenneth Frank, a professor at Michigan State University's College of Education, said in a release.
Danielle Arndt covers K-12 education for AnnArbor.com. Follow her on Twitter @DanielleArndt or email her at daniellearndt@annarbor.com.