Posted on
Fri, May 4, 2012 : 5:57 a.m.
Sugarbush Farms owner hopes to rebuild barn with support from community
By Pete Cunningham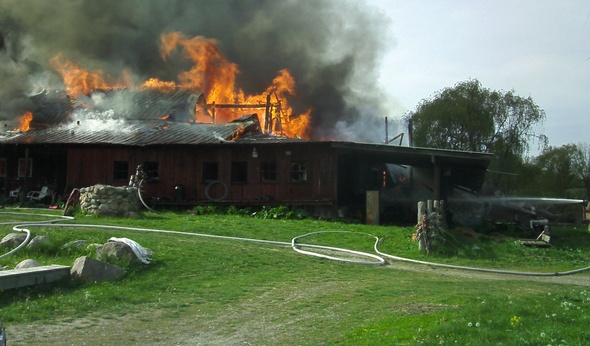 Photo courtesy of Phillip W. Dickinson, Superior Township Fire Department
Cathie Kerr
sent home field trip permission slips with her class last Friday.
Just as she has each of the past 15 years, Kerr - a kindergarten teacher at Dodson Elementary School in Canton - planned on taking her class to Sugarbush Farms in Superior Township this spring.
When her students came to class on Monday, instead of collecting their slips, Kerr had to break the news that there will be no field trip this year.
After the main barn at Sugarbush Farms burned down on Sunday, Sugarbush owner Joe Tashnick, aka "Farmer Joe," informed her that he wouldn't be able to host field trips this spring.
"I was very sad and they were heartbroken," Kerr said. "Kids have a good time feeding the animals and everyone loves Farmer Joe.'"
On field trips Tashnick's sense of humor was a big hit with children, chaperones and teachers alike.
"His sense of humor was perfect for that age group," said Scott Kefgen, a kindergarten teacher at University Preparatory Academy in downtown Detroit who has been taking his classes to Sugarbush for two years.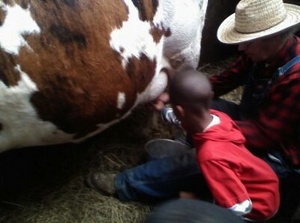 Photo courtesy of Scott Kefgen
Kefgen said his former students still rave about their experiences at the farm.
"It gave them the opportunity to be exposed to a new environment and participate in activities that they normally wouldn't have access to," Kefgen said, recalling his students' reaction to touching a freshly sheered sheep.
"It's just an experience that inner-city children would never get to have," Kefgen said.
Tashnick, 71, hopes he'll still get to offer those same opportunities. He plans to rebuild the two-story barn.
The barn was uninsured. Despite the fact that another five-story barn at Sugarbush burned down in 1980, Tashnick never had the barn insured because he said the annual cost was too high and potential insurers needed him to make too many expensive renovations. Tashnick estimated the damages caused by the fire to be around $125,000.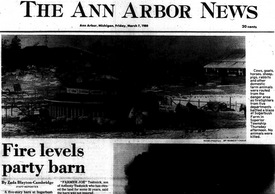 Courtesy of Ann Arbor District Library
Tashnick said he has already started to receive donations via
PayPal
and is looking into putting together a Kickstarter account as well.
"I was planning on looking into traditional financing, looking into another mortgage or taking out a loan, but people have been calling and asking where they can send money," said Tashnick. "So we'll see how that goes and work from there."
It's not just elementary schools and students who have reached out to Tashnick since the fire. In addition to housing animals and field trips, the barn has been the site of barn parties through the years, it was the site of barn parties for fraternities, sororities and other organizations who loved the rustic experience.
The University of Michigan's Alpha Phi chapter holds biennial parties, coined "Barn Dance," at Sugarbush.
"Some of our best memories were from Barn Dance," said Maria Mekas an Alpha Phi member and Michigan alumnus.
Mekas said it was a nice changeup from the more formal events more typical to Greek life.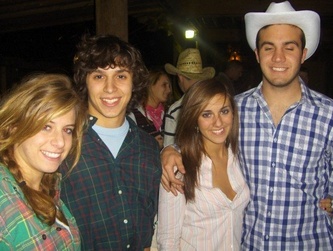 Photo courtesy of Maria Mekas
"It was just more (state of) Michigan like," said Mekas, an Ann Arbor native. "Hay rides, cider, doughnuts, marshmallows - all the cliché fall activities - it was a lot of fun and everyone would get in character and dress up with cowboy boots and hats, stuff like that.
"(Sugarbush) had a very nice staff and were so accommodating and just made everything so fun for us."
After the initial heartbreak of watching the barn go up in flames, Tashnick seemed more upbeat about the prospect of again being a place where young children can learn, young adults can party and everyone can get the home-on-the-farm experience.
The animals were all spared in the blaze, so now it's just a matter of giving them another home and it seems he'll have no shortage of supporters.
"My first reaction was to ask if everyone was OK," Kefgen said. "As soon as he told me (everyone was OK) my thought was what can we do to help? We're going to do that and look for donations. Even if it's something small, we want to help because (Tashnick) offers experiences that would not be available to (inner city kids) otherwise."
Contact Pete Cunningham at petercunningham@annarbor.com or by phone at 734-623-2561. Follow him on Twitter @petcunningham.