Sunday festival planned to celebrate Earth Day at Leslie Science & Nature Center in Ann Arbor
Posted on Sat, Apr 21, 2012 : 11 a.m.
Ann Arbor will celebrate the natural world in style on Sunday with its annual Earth Day festival taking place from noon to 4 p.m. at the Leslie Science & Nature Center.
The nature center, located at 1831 Traver Road, is hosting a free, family-friendly event that features live animal demonstrations, hands-on activities, musical entertainment and displays from dozens of environmental, nonprofit and governmental groups.
Mayor John Hieftje joined Pattie Postel, the nature center's education director, in promoting the festival at this week's Ann Arbor City Council meeting. Hieftje said the city and encourages all citizens to actively participate in this year's Earth Day festival.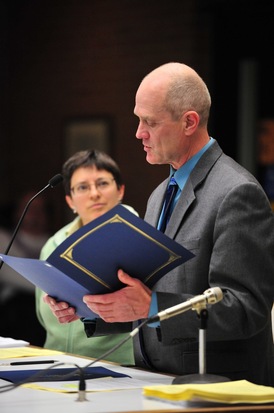 Ryan J. Stanton | AnnArbor.com
Sunday is the 42nd anniversary of the international observation of Earth Day, which was first celebrated in Ann Arbor in 1970.
The Earth Day festival is planned by an umbrella organization called the Environmental Education Network of Washtenaw and staffed by many volunteers.
EENOW includes the city of Ann Arbor, Ecology Center, Recycle Ann Arbor, Leslie Science & Nature Center, Clean Energy Coalition, Washtenaw Community College and the Scrap Box.
The festival entertainment lineup includes a musical performance by Gemini, which features twin brothers Sandor and Laszlo Slomovits, from noon to 1 p.m. Additional guest speakers and surprise entertainment will grace the stage throughout the day.
The nature center also will offer birds of prey orientations throughout the day, while David Clipner and Brian Cressman will be on hand near the Critter House.
Participants are encouraged to dress as their favorite species for the festival. An All-Species Dance takes place throughout the day with children — dressed up as their favorite animal or plant — preening, frolicking and swaying to a raucous jam session.
Visitors are encouraged to stop by the registration table and pick up an orientation map and passport to guide them through the Earth Day activities, and all are welcome to explore the natural areas that surround the nature center. Visitors can tour the Project Grow Discovery Garden and Compost Education Center, or take a guided hike to Black Pond.
The Michigan Network for Children's Environmental Health will provide an opportunity to test toys and other home products for toxic chemicals.
The Scrap Box will host a crafting opportunity where visitors can screen the top three-minute youth videos from Recycle Ann Arbor's video contest proclaiming "Why I Recycle."
Free face painting will be provided by Ann Arbor Cohousing and a bubble station will feature giant bubble-making and bubble science with Sarah Ross and the ECO Girls.
Organizers said festival admission is free due to sponsorship from Whole Foods Market, the city of Ann Arbor, Clean Energy Coalition and the Leslie Science & Nature Center.
On-site concessions and refreshments will be available from vendors including Pilar's Tamales and Silvio's Organic Pizza.
Visitors are encouraged to carpool, catch the bus, ride a bike or walk to what is billed as a zero-waste event. More details are posted at www.a2earthday.org.
Reading a proclamation in honor of Earth Day this week, Hieftje said the natural resources of the state and nation should be used wisely for the future and should be a concern of all governments — at the local, state and national level.
He said the city tries to foster environmental stewardship through citizen involvement in numerous commissions and programs, including the Environmental Commission, the Energy Commission, the Mayor's Energy Challenge, Natural Areas Preservation programs, and events including the Green Fair and Huron River Day.
The city has adopted 10 environmental goals and tracks 60 indicators on the city's State of our Environment website and via the city's Sustainability Plan, Climate Action Plan, Solid Waste Plan, Transportation Plan, and the Urban & Community Forest Management Plan.