Posted on
Sat, Aug 21, 2010 : 1 p.m.
Superior Township man dies shortly after he was Tasered in struggle with police
By Lee Higgins
A Superior Township man being investigated by the county's undercover narcotics task force died Friday shortly after he was Tasered in a struggle with officers, Washtenaw County sheriff's officials said this morning.
The incident occurred on Heather Drive in the MacArthur Boulevard neighborhood at about 5:15 p.m. after officers from the Livingston and Washtenaw Narcotics Enforcement Team requested assistance from Washtenaw County sheriff's deputies, Washtenaw County Sheriff Jerry Clayton said.
At some point, a deputy deployed a Taser due to the man's "resistant behavior," Clayton said. The suspect was assessed, per protocol, and his vitals appeared fine, Clayton said.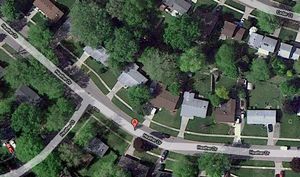 Google map
He was transported to St. Joseph Mercy Hospital, where he was pronounced dead, Clayton said. Clayton said he only had initial information this morning and was awaiting further details.
The man was in his 30s, and police have not released his name. Sheriff's spokesman Derrick Jackson said he didn't know whether the man was "drive stunned" directly with the Taser or shot with Taser probes.
"There was a valid reason to arrest him," Jackson said. "The situation escalated, and the Taser was deployed."
Jackson said he did not have specifics on the nature of the investigation or other arrests that he said were made.
The deputy has been placed on administrative leave as Michigan State Police investigate, Jackson said. Michigan State Police Inspector Garth Burnside said this morning that it's too early in the investigation to make any comment.
Michigan State Detective Sgt. Robert Weimer of the Metro South Post issued a statement this afternoon saying the agency is investigating the death, but the statement contained few new details.
"The investigation involves the death of an Ypsilanti man that occurred at St. Joseph Mercy Hospital," the statement says. "The man was arrested earlier by deputies from the Washtenaw County Sheriffs Office and transported to St. Joseph Mercy Hospital by ambulance. The male subject passed away while at St. Joseph Mercy Hospital. The cause of death is not yet known. "
An autopsy has not yet been conducted on the man. Officials at the Washtenaw County Medical Examiner's Office did not immediately return a phone call seeking comment this morning.
Investigators expect to release more details later today.
Jackson, who is the director of community engagement for the Sheriff's Department, said he and other deputies have been talking with residents about any concerns they have about the incident.
"It's tragic and it's deeply concerning to everyone when someone dies," Jackson said. "There will be a transparent process. People can rest assured they will hear from the sheriff directly and they will hear the facts of what happened. Whenever there's an investigation, it can take time."
According to Amnesty International, between 2001 and 2008, 351 people in the United States died after being shocked by police Tasers.
A Taser, considered a less lethal option for police, is an electroshock weapon that uses electrical current to disrupt voluntary control of muscles. The Taser fires two small dart-like electrodes, which stay connected to the main unit when they attach to a person. Tasers also have a "drive stun" capability, where the Taser is held against the person without firing the projectiles, and is intended to cause pain without incapacitating the person.
AnnArbor.com News Director Amalie Nash contributed to this story.