Posted on
Thu, Jun 7, 2012 : 6:51 p.m.
Supporters of halted Snyder recall campaign turn attention to 'Occupy This Governor' initiative
By Ryan J. Stanton
Ann Arbor area supporters of the now-suspended campaign to recall Michigan Gov. Rick Snyder say they have no plans of going away quietly.
Jan BenDor, a Washtenaw County resident and one of the leaders of the Michigan Rising Super PAC, said the group's work will take on a new form now.
"I was part of the decision to suspend the signature drive, but we certainly are not suspending our effort to stop the corporate destruction of Michigan," BenDor told AnnArbor.com.
"We're just facing reality that the very difficult task of collecting 1 million signatures in 90 days was made even more difficult by a lot of factors, certainly what happened in Wisconsin."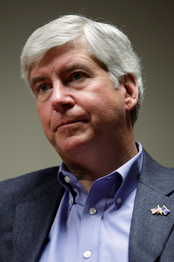 The group said on Thursday it decided to stop collecting signatures to recall Snyder following Gov.
Scott Walker's
victory in Wisconsin's recall election. Their hopes of an energizing effect from Wisconsin's election were dashed by the outcome of Tuesday's vote.
Michigan Rising leaders plan to redefine their effort as "Occupy This Governor," with a focus on keeping Snyder busy defending his policies between now and the 2014 election. They plan to coordinate public protests and promote alternative policies.
"We're going to have to fight this in a lot of different ways," BenDor said. "We're regrouping. We're going to be holding a series of meetings. We have to do a lot of public education."
Michigan Rising ultimately hopes to develop a progressive think tank to rival conservative think tanks and develop progressive leaders and support progressive legislators.
Sara Wurfel, a spokeswoman for Snyder, said the governor has been focused, and will stay focused, on the hard work of turning Michigan and its economy around.
"So many positive signs are happening — more and better jobs, lowering unemployment rate, growing personal income. The list goes on," she said. "There's a growing recognition of that. The less divisive and more we can work together, the better off Michigan will be."
BenDor, who lives near Snyder in Superior Township, is listed as the record keeper in the Michigan Rising Super PAC's organization paperwork filed with the state.
The group filed campaign finance reports in April showing it had raised just over $42,000 and spent a little more than $27,000, with a balance of nearly $15,000.
The money was spent on the group's website, yard signs, T-shirts, office equipment, Facebook ads and other items like $2,000 for a Royal Oak company to live-stream a kickoff rally.
The PAC received more than $28,000 of its funding in the form of a direct contribution from Berkeley, Calif.-based Kos Media back in January.
No other donors rivaled that contribution, but 30 individuals in Washtenaw County collectively pitched in more than $1,300 to the PAC in recent months.
BenDor said Michigan Rising has built up a base of thousands of volunteers who remain committed to the goal of stopping the corporate takeover of Michigan.
Its leaders say corporate interests in Wisconsin proved again that a huge funding gap can influence the ballot box.
"I think the amount of money that was poured into Wisconsin should frighten every patriotic American," BenDor said. "There are a whole lot of negative things we're going to have to address about the honesty and fairness of our election system."
The Washtenaw County Election Commission voted 2-1 on April 9 to approve Michigan Rising's recall petition language, the second effort in as many years to recall Snyder.
But less than two months later, in the first 30 days of its petition drive, Michigan Rising reported having less than 2 percent of the 200,000 signatures it was hoping to have by June 1.
The group's leaders decided there was no realistic scenario that would allow it to hit its target of 1 million signatures in the next 55 days.
Brit Satchwell, president of the Ann Arbor Education Association and an early supporter of the Snyder recall efforts, said he was disappointed.
"I'm disappointed that Michigan couldn't mount a campaign that paralleled Wisconsin, even though Wisconsin failed," he said.
"I would have liked to have seen more overt collaboration between the unions and the Michigan Democratic Party and the Dems were practically AWOL on the whole thing," he said.
Satchwell commented on what happened in Wisconsin, saying Wisconsin now has the worst government money can buy.
"Now we see as plain as day what huge amounts of money from untraceable sources can do to pervert the Democratic process," he said.
Satchwell said his own efforts are now focused on the Protect Our Jobs campaign, a statewide effort to put a proposal on the November ballot that would enshrine in Michigan's Constitution the right of every worker to collectively bargain. More than 322,600 signatures are needed.
"We're going gangbusters," Satchwell said. "We're going to make our numbers and go beyond them. I have every confidence that it will be on the ballot in November and the job of the progressives and the unions will be to the educate the public and get out the vote."
Mackinac Center for Public Policy President Joseph Lehman on Thursday extended an open invitation to UAW President Bob King to publicly debate the Protect Our Jobs initiative.
"As we are both aware, the outcome of this proposal will have a major impact on state, local and school policies for decades to come," Lehman wrote to King.
Lehman added: "This radical constitutional amendment would benefit the 3 percent — the number of government union employees in Michigan — who want to shield themselves from the economic realities the 97 percent of us face."
Ryan J. Stanton covers government and politics for AnnArbor.com. Reach him at ryanstanton@annarbor.com or 734-623-2529. You also can follow him on Twitter or subscribe to AnnArbor.com's email newsletters.