Posted on
Fri, Sep 7, 2012 : 5 p.m.
Supreme Court Justice Elena Kagan tells U-M crowd about serious and not-so-serious workings of the high court
By Janet Miller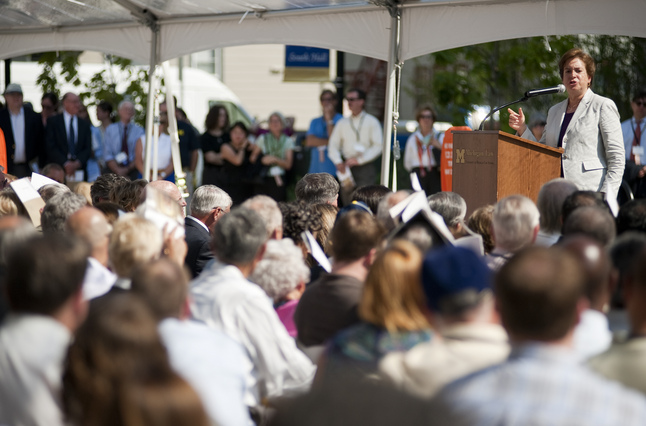 Daniel Brenner | AnnArbor.com
Supreme Court Associate Justice
Elena Kagan
appeared in Ann Arbor Friday morning to discuss a range of weighty topics — from cameras in the courtroom to the politicization of the nation's highest court. But there also were lighter moments, from Kagan's role bringing frozen yogurt to the court to the court's aversion to technology.
Kagan's appearance was part of Friday's dedication of South Hall, the University of Michigan Law School's newest academic building. Like a pair of bookends, Chief Justice of the Supreme Court John Roberts Jr. attended the ground breaking for the new building three years ago.
Kagan and U-M Law School Dean Evan Caminker sat in upholstered chairs on the stage of a packed Power Center in front of an audience heavy with lawyers, judges and law school students. Kagan was to appear later in the day for the actual building dedication.
Kagan is the court's newest justice, appointed two years ago by President Barack Obama. Before that, she had served as the nation's solicitor general.
Some of her observations about the court:
Two years ago, Kagan said she would have backed having cameras in the courtroom as a way to encourage transparency. But time has shifted her thinking. "I have a few worries, including that people might play to the camera. Sometimes you see that when you watch Congressional hearings," Kagan said. There's also concern over how footage would be used. The court releases audio recordings of high profile cases. One clip was quickly used in a political TV advertisement.
Kagan said she's seen the low public opinion poll numbers for the Supreme Court, but didn't know if they reflect a decline in confidence with all government, or if it specifically reflected thoughts about the high court. "But I don't want to discount the theory that there are feelings that the court has become politically divided," Kagan said. Nevertheless, it's untrue, she said. "Not a single member of the court, even for a single time, has based a decision on 'Do I like this president or do I not like this president,' Kagan said. "It's not the way members of the court think." Rather, it boils down to different judicial methods and constitutional decision-making, she said.
Between 10 and 12 of the roughly 70 cases the high court hears each session end in 5-4 splits, Kagan said. The rest are either unanimous or have larger margins, and they don't follow conservative or liberal labels, she said. "There are crazy pairings…. Still, I think it would be a good thing if we had fewer 5-4 splits," she said.
The shift to a Supreme Court Bar, with experienced lawyers who regularly appear before the high court for oral arguments, and away from lawyers who originally handled a case finding their way before the high court, is a good one, Kagan said. "They understand what the exercise is about and are extremely good at it. It means were are actually getting answers to our questions." There still needs to be improvement on the criminal defense side, Kagan said. "Often, these people are appearing before the Supreme Court for the first time. I hope that changes in the future." She pointed to a Social Security case before Chief Justice William Rehnquist's court she witnessed when she was a clerk. "The (lawyer) came up to the podium and told (Rehnquist) that he'd like to introduce his family. He turned around and introduced his wife and three children. Chief Justice Rehnquist was flabbergasted," Kagan said.
The move toward having an active bench, where justices fire heated questions, has also been good, to a point, Kagan said. "It started with Justice (Antonin) Scalia, who said let's try to make this hour of our day useful. We've all read the briefs and it's not useful to have someone stand up there and read them. Justice Scalia started actively questioning." Others followed "to the point where there's maybe a little too much," Kagan said. "We're not giving lawyers time to answer our questions."
The justices don't communicate by email. "We communicate by written message," she said. "A messenger walks around the corner to deliver them." Email has not come to the justices."
As the court's junior member, Kagan was given two specific tasks when she joined the bench, she told the audience: To answer a knock at the door when the justices are in conference and to sit on the Cafeteria Committee. "I have been able to bring frozen yogurt to the Supreme Court cafeteria," Kagan quipped. "When it comes to the end of my term, if I didn't do anything else, at least I'll be known for that."