Posted on
Wed, Dec 9, 2009 : 9:30 a.m.
Survey results show lack of support for AATA countywide millage
By Ryan J. Stanton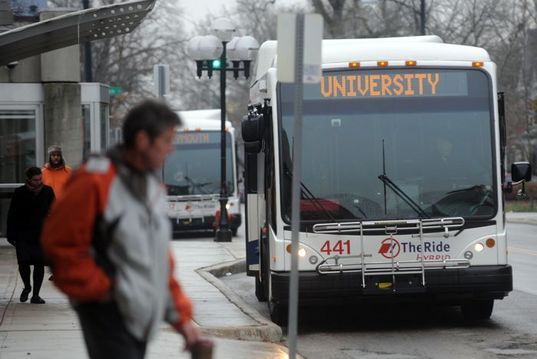 Melanie Maxwell | AnnArbor.com
Ann Arbor Transportation Authority officials met Tuesday to discuss the future of the agency as it looks to become the transit provider for all of Washtenaw County.
Chris White, AATA's manager of service development, said uncertainty about the future of Michigan's economy is working against the chances of AATA getting a countywide transit millage passed by voters.
"The economy clearly has an effect on people's willingness to vote for a millage at this point," he said, adding that's especially true in the eastern part of the county, which has been harder hit by the recession in Michigan.
White discussed the results of a recent telephone survey of county voters aimed at gauging feelings about a countywide transit millage. He said the survey research firm will make a full presentation to the board in January and respond to questions then.
Giving initial highlights of the report, White said the survey showed county residents typically have a favorable view of AATA and the services it provides. But their willingness to pay a 1-mill levy to expand transit services may not be secure enough for the AATA to have confidence in passing the millage, he said.
The survey sought feedback from 940 county voters, including an even mix of residents in the city of Ann Arbor, the urbanized area outside the city, the eastern townships and the western townships.
White said 59 percent of respondents rated their view of AATA as excellent or good, but only 51 percent favored a 1-mill countywide transit millage. Seventeen percent indicated they definitely would support the millage, and 34 percent said they probably would - which White considered a relatively insecure commitment.
White's report came as the AATA's Planning and Development Committee met during the afternoon on the campus of Washtenaw Community College. The committee meeting was followed by a special board of directors meeting, where AATA officials discussed plans to expand under Michigan Public Act 196.
The AATA was chartered in 1969 by the city of Ann Arbor as a special-purpose unit of government. It currently is supported through fare box revenues and local, state and federal funds, including a 2-mill tax in the city of Ann Arbor.
CEO Michael Ford has recommended AATA reorganize under Act 196 to prepare the transit agency to administer funding for expanded service, including countywide transit and a portion of commuter rail operating costs. Last month, the agency's board adopted resolutions affirming AATA's commitment to going countywide.
Ford said the current lack of support for a millage may just mean the agency has to do a better job of talking with residents about the future of transit in Washtenaw County. The AATA is hiring a consultant to get the community involved in creating a vision for that plan and identifying service needs throughout the county.
"I think there's more work that we need to do as we move forward and more communication that we need to have," he said. "We don't have a service plan yet that we've communicated to people. At this point, we haven't gone out and talked to folks and heard what they have to say about a service plan. That's going to be critical. The people have to let us know what they think and what they want because that's ultimately the service that we want to provide."
Ford noted that the results of the most recent survey closely mirror results from a similar survey done in 2006.
AATA officials acknowledge multiple options are being considered for expanding countywide, in addition to the idea of layering a 1-mill countywide tax on top of the current 2 mills in Ann Arbor.
A report laid out by AATA Treasurer Ted Annis last month recommended the agency eliminate the current levy in Ann Arbor and replace it with a countywide tax of 1 mill. Under the current funding method, AATA operates on a budget of about $25.46 million. That could increase to $33.25 million under a 1-mill county tax method of funding, according to a report prepared by Annis.
That's an increase of about $7.8 million. Annis claims another $3.7 million in funds could be freed up through realizing better operating efficiencies.
The AATA currently operates 27 public transit routes, paratransit services and carpool-vanpool matching, as well as other transit services throughout urban areas of the county through purchase of service agreements.
Ford said a new millage is only one option of many that AATA leaders will be discussing.
"I think we can look at options and a millage is obviously something that people are focusing on, but are there other funding sources that we just haven't thought about?" he said. "I think that we have to kind of get outside of the box and think about other opportunities - other grants and other mechanisms of sustained funding. The millage is certainly one option."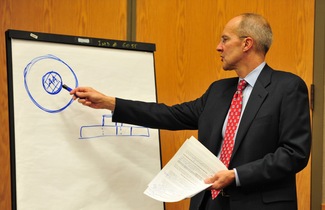 Ryan J. Stanton | AnnArbor.com
At Tuesday's meeting, AATA leaders received advice from the leaders of other Michigan transit systems that have operated as Act 196 authorities as well as two attorneys who discussed the implications of going countywide under Act 196 versus Act 55.
Attorney Jeff Ammon said only cities with fewer than 300,000 people can form Act 55 authorities but any municipality could form an Act 196 authority. Both laws allow levying up to 5 mills of property taxes for five years at a time, though Act 196 allows authorities to ask voters for a millage of up to 25 years if part of the funds are used for fixed guideway systems such as light rail or rapid transit bus service.
Ammon said if the AATA decides to become a countywide authority under Act 196 it has the choice of implementing either a "layer cake" millage system or a "donut" millage system.
Under the "layer cake" system, the existing AATA service would continue and a new countywide authority under Act 196 would form with a separate millage covering the entire county. That would cause two millages - one within the city and one throughout the entire county. Ann Arbor taxpayers would pay both millages.
Under the "donut" system, the new authority would consist of the entire county except the city of Ann Arbor, which would exercise its right to be excluded from the Act 196 authority. That would result in two transit authorities with respective millages resembling a donut when drawn on a map.
A sample timeline provided by the attorneys shows 14 steps needed to convert to an Act 196 authority between now and June. It would involve transferring of assets from the old AATA to the new authority, obtaining state and federal approval as well as agreements from the Ann Arbor City Council, appointment of a new board of directors, adoption of new bylaws and eventually the dissolving of the old AATA.
Ypsilanti Mayor Paul Schreiber showed up at Tuesday's meeting and encouraged AATA leaders to reconfigure the agency in a way that "would knit all of the municipalities and townships together" and create a more stable long-term funding solution for transit in the county.
Ryan J. Stanton covers government for AnnArbor.com. Reach him at ryanstanton@annarbor.com or 734-623-2529.