Posted on
Sun, Dec 2, 2012 : 11:41 a.m.
Suspected drunk driver facing charges after collision flips car over in downtown Ann Arbor
By Sven Gustafson
Editor's note: This story has been updated.
An Ann Arbor woman suspected of drunken driving was arraigned Sunday on three charges after police said she struck another vehicle on a downtown street, flipped her car, fled the scene and later tried to report her car as stolen.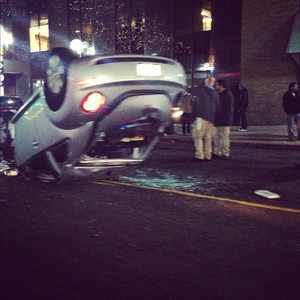 Courtesy of Abdulraheem Zakri
Kathryn Elizabeth Sheir
, 32, was charged with one count each of making a false report of a felony, failing to stop and identify after a collision and operating while intoxicated. Bond was set at $10,000. Sheir faces a preliminary examination Dec. 13.
The drivers of both vehicles suffered minor injuries, police said.
The incident took place on southbound Main Street just south of Huron around 2:12 a.m. Saturday, shortly after the Midnight Madness sale downtown. After Sheir rear-ended another vehicle traveling southbound, her silver Volkswagen Beetle flipped over and struck two other parked vehicles before coming to a rest in the northbound lane, police Sgt. Mike Scherba said.
Witnesses reported seeing Sheir flee the scene on foot.
She was later contacted when police traced her license plate to her apartment on Harbor Way, near South Main Street and Eisenhower Parkway. There, she told police her car had been stolen.
Police then transported Sheir to the station to file a stolen vehicle report. Once there, other deputies and several witnesses — including passersby and a man who works as a bouncer at nearby Cafe Habana — identified her as the suspect in the collision.
Sheir's official blood-alcohol level won't be known until a lab analyzes her blood sample, Scherba said.
"There must have been enough probable cause outside of the blood draw to warrant charging for the OWI without the blood results," he said.