Posted on
Fri, May 13, 2011 : 1:05 p.m.
False alarm: Suspicious package near Federal Building in downtown Ann Arbor
By AnnArbor.com Staff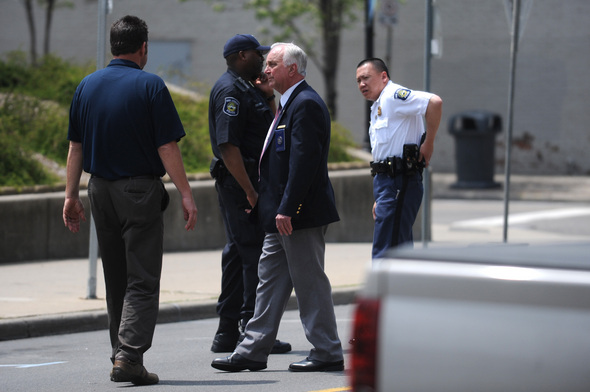 Melanie Maxwell | AnnArbor.com
This story was updated at 2:24 p.m.
The suspicious package found near the Federal Building in downtown Ann Arbor was a "false alarm," said Sgt. Jason Kitts of the Ann Arbor Police Department.
And upon investigation it also turned out to be a promotional item for the movie "Thor."
That determination came shortly after 2 p.m. Friday, an hour after streets were blocked off near the building on East Liberty at South Fourth Avenue.
At about 1 p.m., Police had closed off the area of Fourth Avenue and Liberty Street after someone spotted the package.
Ann Arbor police, the U.S. Marshals Service and an Alcohol, Tobacco and Firearms agent responded to the scene. The Michigan State Police Bomb Squad arrived at about 2 p.m.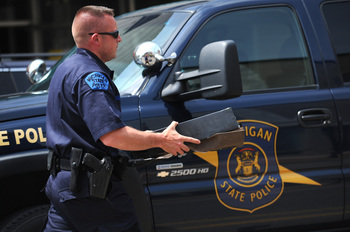 Melanie Maxwell | AnnArbor.com
The package was discovered by a passer-by on the ground on Fourth Avenue between Liberty and William streets, Ann Arbor Police Lt.
Angela Abrams
said.
Police did not allow cars in or out of the Fourth Avenue and William Street parking structure, a court security officer who identified himself as C. Mitchell told an AnnArbor.com reporter.
ATF Special Agent George Goodman said the FBI was on the scene. He said a bomb threat had been called into the Ann Arbor Transportation Authority earlier on Friday, prompting the heightened security. (To see an updated story on the investigation into the bomb threat, click here.)
Officials were on alert, Goodman said, when someone reported seeing the package fall out of a Dumpster
As police rushed to the scene, people were ushered away from the Federal Building, while Liberty was taped off in front of the U.S. Post Office.