Neighbors celebrate return of trumpeter swans to Lodi Township marsh
Posted on Mon, Jun 20, 2011 : 5:59 a.m.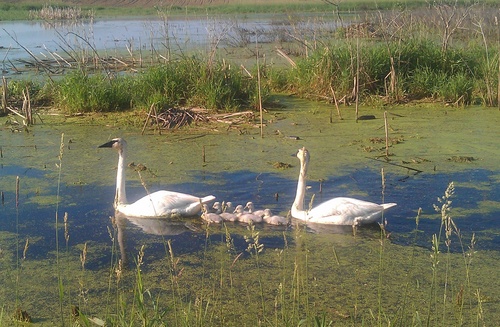 Courtesy of Michelle Czerniawski
A family of trumpeter swans has nested in the marshes at the corner of Scio Church and Parker roads in Lodi Township, near the spot where the death of swans in 2009 caused an outrage. Swan lovers who mourned that loss are celebrating the swans' arrival.
Two years ago, a family of swans living in the same marsh was killed when a passing vehicle struck them. The swans had been a fixture in the local community. When they were killed, a Facebook group in their honor had over 750 members.
Michelle Czerniawski was one of the first to see the new cygnets.
"After the extreme tragedy of the last pair that lived there, it's so happy for us to see this new pair nesting," she said. "They're pretty much out there; it's really cute to see."
When the swans were killed two years ago, one young cygnet survived and was cared for by Carol Dangler. Despite some speculation, she says she can't be certain whether the new family is really a return of the old.
"We have no way of knowing. The swan we had grew up and flew away," she said. "We don't mark them or tag them."
According to Czerniawski, this isn't the first time this pair of grown swans has been to the marsh.
"They came last year in the spring and they spent the whole summer here, and they nested and nothing came of it," she said.
Czerniawski added that everyone seemed to be excited by the hatching of the cygnets.
"The parents were nodding their heads to each other like, 'Look! We got babies, hah!'" she said.
According to the Michigan Department of Natural Resources, the trumpeter swan is the world's largest water fowl, and in 2005 there were approximately 728 swans in the state, including about 188 cygnets.