Posted on
Tue, Jul 16, 2013 : 3:07 p.m.
Sweaty Ann Arbor Art Fair setup tradition continues
By Amy Biolchini
Melanie Maxwell | AnnArbor.com
Related: Heat advisory: Health department offers cooling centers in Ann Arbor area
The annual, sweaty tradition of Ann Arbor Art Fair setup began Tuesday as downtown streets transformed into a sea of white tents thanks to the muscle and perspiration of several hundred artists.
Most exhibitors are in agreement: The art fair always seems to be the hottest week of the entire summer.
They're not wrong — University of Michigan weather observer Dennis Kahlbaum said the Ann Arbor Art Fair usually occurs during the warmest period of the year.
The National Weather Service issued a heat advisory from noon Tuesday to midnight Wednesday due to 90-degree temperatures and heat indexes that stretched into the 100s.
"It's hot, hot and hot," said Ken Arnold Tuesday as he was hanging his framed marquetry pieces Tuesday afternoon on State Street.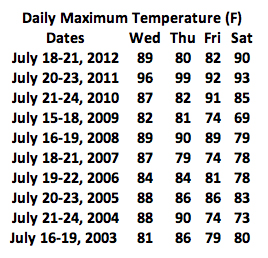 A wood artist from Columbus, Arnold is a 30-year Ann Arbor Art Fair veteran and said he knows to expect the warm weather.
Though a light cloud cover provided a minor respite from the sun Tuesday, Arnold said he was relying on a slight breeze that sneaks between buildings on the the adjacent U-M campus and plenty of hydration to keep himself cool.
Nancy Ware of Bay City found a few degrees of temperature relief by placing her tent underneath the overhang at Tower Plaza on the corner of East William and Maynard streets.
By Tuesday afternoon, Ware had set up her fused glass jewelry and mosaic glass windows on display boards in her stall.
It's always an adventure with the weather in Ann Arbor, Ware said. Last year her spot on State Street nearly flooded during a rainstorm, Ware said.
Ware said she travels year-round to outdoor art fairs in Michigan and Florida. Ann Arbor is the hottest fair of them all, Ware said.
Historically, temperatures at the Ann Arbor Art Fair have been higher than average -- and typically heat indexes make it feel about 90 to 100 degrees.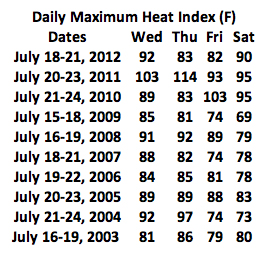 Artist
Theadora Fine
of Ellicott City, Maryland, is a relative newcomer to the Ann Arbor Art Fair.
Ninety-degree weather welcomed Fine to her first Ann Arbor Art Fair last year, and this year was no different. Fine said strong sales of her detailed beaded jewelry brought her back to Ann Arbor.
"I'm back!" Fine said.
Kelly Allen of Jupiter, Fla. has been attending the Ann Arbor Art Fair for the past 18 years.
About noon Tuesday Allen was busy assembling tables for her handmade jewelry display on East Liberty Street just east of Division Street. Allen said she's come to expect the hot weather when she travels to Ann Arbor for the four-day event.
"This weekend is always the hottest in Ann Arbor," Allen said. "Why don't they change it?"
With temperatures expected to top into the 90s this year, Allen said the Ann Arbor weather is more sweltering than where she lives on the eastern coast of Florida.
Allen said she swears by a cool wet towel on the back of her neck, electrolyte-laden drinks and electric fans.
"I don't keep coming back for the weather," Allen said, explaining she has a great base of repeat customers that she sees each year in Ann Arbor. "It's a great show."
Amy Biolchini covers Washtenaw County, health and environmental issues for AnnArbor.com. Reach her at (734) 623-2552, amybiolchini@annarbor.com or on Twitter.