community wall links:

T. Wall Foundation aims to send children with disabilities to Michigan sporting events; Ugly Mug hosts showcase of Emi Slade's artwork March 9

Posted on Tue, Feb 26, 2013 : 9:16 a.m.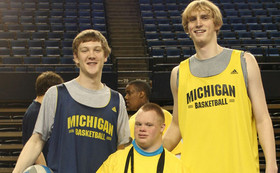 from the T. Wall Foundation website
From the T. Wall Foundation soliciting sporting event tickets for children with disabilities to an art show case at Ypsilanti's Ugly Mug March 9, here's a roundup of some of the stories posted on AnnArbor.com's Community Wall over the past few days:
By: T Wall: Donate Michigan Sporting Tickets to Children with Disabilities and Continued information on donating U o M Sport Tickets
The T. Wall Foundation ( www.twallfoundation.org ) helps children with disabilities attend Michigan Sporting events. If you donate your tickets we can convert them to handicapped seating.

By: MatthewKrause: Art showcase @ the Ugly Mug on March 9th
Emi Slade brings you another fabulous collection of artwork here at the Ugly Mug! Emi will have Adult Coloring Book pages for people to color in.