Posted on
Tue, Feb 26, 2013 : 9:16 a.m.
T. Wall Foundation aims to send children with disabilities to Michigan sporting events; Ugly Mug hosts showcase of Emi Slade's artwork March 9
By AnnArbor.com Staff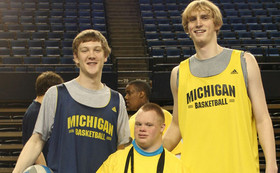 from the T. Wall Foundation website
From the T. Wall Foundation soliciting sporting event tickets for children with disabilities to an art show case at Ypsilanti's Ugly Mug March 9, here's a roundup of some of the stories posted on AnnArbor.com's Community Wall over the past few days:
By: T Wall: Donate Michigan Sporting Tickets to Children with Disabilities and Continued information on donating U o M Sport Tickets
The T. Wall Foundation ( www.twallfoundation.org ) helps children with disabilities attend Michigan Sporting events. If you donate your tickets we can convert them to handicapped seating.

By: MatthewKrause: Art showcase @ the Ugly Mug on March 9th
Emi Slade brings you another fabulous collection of artwork here at the Ugly Mug! Emi will have Adult Coloring Book pages for people to color in.
By: U-M Department of Psychiatry: Far from the Tree: Parents, Children and the Search for Identity - An Evening with Author Andrew Solomon on April 12
By: Pam: Michigan Film Tours State as It Preps for National Exposure
By: ralloball: "Attorney turned Youtube Boogie-Woogie Piano Sensation with over 2.1 million views to play at Ann Arbor's Canterbury House Concert Series this March 23rd"
By: salinefiddlers: Saline Fiddlers Hometown Show this Saturday March 2nd 2013!
By: Eastern Michigan University Career Center: Michigan Collegiate Job Fair, March 22nd
By: Deb Kern: FREE movie screening at HSHV - Peaceable Kingdom: The Journey Home
By: bbbswashtenaw: Bowl for Kids' Sake for Big Brothers Big Sisters!
By: al3xand3r: Reasons for Transit: A Student Perspective
By: Scott Foster: March 13 Meeting of the Michigan Wellness Council in Ann Arbor
By: battalion999: Great Beer and Great times at the Michigan Brewers Guild Winter Beer Fest 2013
AnnArbor.com's Community Wall is a spot for local people to post local stories, news and announcements. To post a story, sign in to AnnArbor.com, then go to www.annarbor.com/community and use the Got News? Tell Us function at the top to submit your news. If you have a photo to add, e-mail it to us at community@annarbor.com, and we'll insert it into your story.