Posted on
Sun, Dec 4, 2011 : 5:59 a.m.
Redevelopment? Renovation? Ann Arbor library officials revive talks about downtown library
By Ryan J. Stanton
Ryan J. Stanton | AnnArbor.com
Talks are picking up again about the future of Ann Arbor's downtown library, three years after library officials
put the brakes on a redevelopment project
due to a bad economy.
The Ann Arbor District Library's governing board voted recently in favor of transferring $45,000 from the library's fund balance to the administration's consulting budget.
Library officials intend to use that money to hire consultants to begin a process of determining the future of the downtown library at the corner of Fifth Avenue and William Street.
"What the library board has determined to do at this point in time is to gather whatever information we need to begin a discussion about the long-term existence of the downtown library in this location," said AADL Director Josie Parker.
"We put all of that on hold in 2008," she said. "We want to pick that back up."
But how the effort ends — with either renovation or redevelopment of the site — remains undetermined.
Functionality of the existing building, which traces its roots back more than 50 years, is a consideration, Parker said.
"The library board knows it has a responsibility to the community to determine how to provide library services from this site," she said. "If we do it within this building as it exists today, then we need to start planning how to do that.
"This building needs a number of things done to it for it to function into the future just as a building," she added. "It wouldn't matter what was happening inside of it."
Parker said library officials are interested in learning about the community's expectations for the downtown library from a service standpoint. The public feedback could steer the AADL in the direction of a new or renovated library, she said, but no such decisions have been made yet.
"There's no conversation being held about redevelopment," she said. "There's no conversation being held about the building per se."
Still, Parker said, it's prudent for library officials to begin thinking about the future. She said a public library 20 years from now should look different than a library today.
"That's actually the challenge in front of us is how do we plan for that — whether we're in this building, a new building or a renovated building," she said.
The downtown library originally was built in 1957. An addition in 1974 doubled the size of the building, and an addition in 1991 doubled the size again.
In 2007, the AADL hired consultant Providence Associates LLC to evaluate the building's feasibility for the next 20 years. The findings led the AADL to hire a local architecture firm and begin the process of redesigning the downtown library.
A joint survey with the Downtown Development Authority in spring 2008 provided the AADL with feedback from more than 6,000 community members about the future of the downtown library. The survey was followed in June 2008 with three public meetings about the project.
But in November 2008, the library board voted to suspend the downtown library project as a result of the economic downturn.
The proposed $71 million project to raze the downtown library and replace it with a new facility had sparked debate in the community. It would have required getting voters to approve a tax increase to finance construction bonds, a scenario met with opposition from some who questioned the timing given the economic climate.
One scenario called for about a half-mill property tax hike.
Parker said the library had spent about $900,000 on an architectural and construction assessment before the project was put on hold.
Library officials had hired Luckenbach/Ziegelman Architects of Ann Arbor, a firm that designed the Malletts Creek and Pittsfield branches. The tentative plans called for razing the aging building and replacing it with a modern facility that would include a 400-seat auditorium, better lighting, more computer stations and 47 percent more space overall.
In addition to the main library downtown, the AADL operates four branch libraries.
Parker said the process going forward could start with another community survey. If the community wants a new or renovated building, she said, that would have to be funded with a bond and it would be up to voters to decide what they're willing to pay.
"Those are not questions we have answers to right now," she said. "So this is to ask the question: What does our community want to see?"
Library board member Nancy Kaplan said she hasn't yet made a decision whether she supports a renovation or redevelopment of the downtown library, but approaching the community and having an open exchange of information is a good place to start.
"It's something that needs to be looked into, so that's really what we're going to do," she said. "We need to know what it is that we need and what the community wants."
The downtown library is located in an area that's undergoing a major transformation right now. Directly to the north of the library, which is located at the northeast corner of Fifth and William, the city and DDA are building a new $50 million underground parking structure on the city-owned Library Lot. What goes on top hasn't been decided yet.
Directly across the street, the Ann Arbor Transportation Authority is getting ready to demolish and rebuild the Blake Transit Center. Adjacent to the bus station is another city-owned property, currently a parking lot, that is being considered for future development.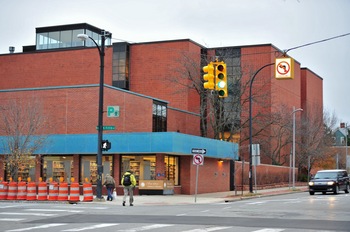 Ryan J. Stanton | AnnArbor.com
Parker said there's been no consideration at this point of potentially developing a new library at any of those locations, though some have suggested they might be good spots.
"Nothing that concrete has been discussed at all," Parker said.
City Council Member Mike Anglin, D-5th Ward, represents the area of the city where the downtown library is located. He spoke positively of the AADL's efforts.
"The library board is very competent, and I think with the leadership they have, they'll be able to do a good public outreach," he said. "And most of the public outreach could be from the people who are using the library as they come in."
Anglin said he thinks downtown Ann Arbor will need a main library continuing years into the future. He said he's not in favor of regional libraries.
"I think we need a focal point," he said. "We need it as a community place where people can assemble and see special programs and have special events."
Anglin said he's interested in the most efficient use of the site, too. It's a prime piece of real estate, and he'd like to see vertical development above the library if possible.
"I think if they continue on and get enough input, and if the community is behind building a new library, I always thought it would be better if it were mixed use, meaning maybe something above the library," he said. "The first two or three floors, a library, then something above."
Parker stressed that she's hoping to hear opinions from the community on library services, not necessarily on a new or renovated building.
"Because at the end of the day, it's about public library services," Parker said. "We do need some place to deliver that from. But what it looks like, how big it is, what goes on inside of it — those are all things to be determined."
Parker said there are some who might ask the question: Who needs a library in the 21st century when the Internet exists now?
"I think a lot of people in Ann Arbor can answer that question very, very well, and I'd like to be able to give them a chance to do that," she said.
The downtown library's door counter consistently clocks between 45,000 and 50,000 visits every month. About 1.12 million items were checked out for the fiscal year that ended June 30, 2011. That's down from more than 1.2 million for the fiscal year that ended June 30, 2010.
From July through October of this year, 333,968 items were checked out. That's down 13.7 percent from the same four months a year ago and down 20.2 percent from two years ago.
Construction of a new underground parking structure adjacent to the library, which has taken a parking lot out of service for the past two years and closed South Fifth Avenue in front of the library for more than a year, could be to blame for the declining figures.
Ryan J. Stanton covers government and politics for AnnArbor.com. Reach him at ryanstanton@annarbor.com or 734-623-2529. You also can follow him on Twitter or subscribe to AnnArbor.com's e-mail newsletters.