Posted on
Mon, Apr 23, 2012 : 5:59 a.m.
Tattoo and piercing laws make life harder on the wrong people, say local shop owners
By Pete Cunningham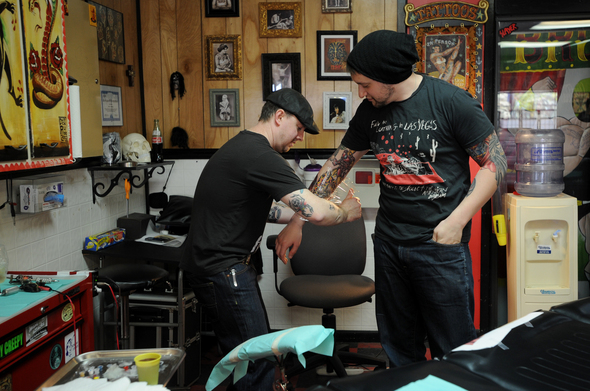 Melanie Maxwell | AnnArbor.com
As
Brian Massey
prepares his tattooing station at
Lucky Monkey Tattoo Parlour
in downtown Ann Arbor, his bright blue rubber gloves are just one of the many precautions he takes to ensure his own and his clients' safety.
Sterile supplies, including single-use needles and ink pots, are neatly arranged on the reflective tray next to his chair, which resembles that of a dentist's office, except for the vibrant art that surrounds it.
Just like a dentist would, Massey has received bloodborne pathogens exposure training.
Massey did all these things long before Michigan state law made it a requirement in January of 2010.
Nothing significant has really changed for Massey or any of the other artists who work at Lucky Monkey since the passing of Public Act 375 -- which regulates tattooing, piercing and permanent cosmetics.
Massey's problem with the law is that nothing seems to have changed for those not in compliance either and he's not alone in his sentiments.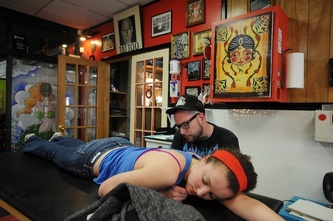 Several artists and shop owners expressed concern that the laws have put the kids following the rules in school under the microscope more than ever, but ignoring those who are skipping class altogether.
"(The health department) needs to shift their focus more," said Dana Forrester, owner of Lucky Monkey. "I've reported Craigslist posts and stuff like that, but nothing seems to get done about those things because they don't have the resources or the manpower."
"We have to jump though all these hoops -- which we do anyway -- for all these fees. But to me if there's no enforcement of the people that aren't following these regulations, then what's the point?" Forrester said.
Forrester isn't concerned about the business she might stand to lose from illegal tattoo shops. She said the hack jobs many people get at the underground shops provides Lucky Monkey with plenty of clients looking for touchups.
Dawn Cook, an artist at Depot Town Tattoo in Ypsilanti, said many of her clients are people looking to have work fixed that they received at illegal tattoo parties. Some cases are so bad, Cook said, a touchup or coverup won't help and people get laser removal instead.
"It happens a lot, actually," Cook said.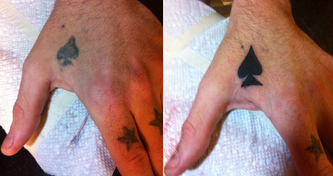 Photos courtesy of Dawn Cook
Forrester said she's concerned about the public perception of the industry and safety.
"People need to be educated about the dangers of just getting a tattoo in someone's basement and the people doing that need to be stopped," Forrester said. "There needs to be enforcement and education and I don't see that happening."
Forrester would like to see the $500 annual licensing fee she pays go toward that effort.
Angela Parsons, Environmental Health Education Coordinator for the Washtenaw County Department of Public Health, said half of those fees go directly back to the health department, but admitted there still aren't enough resources or coordination with law enforcement to crack down on underground operations.
"It is difficult because we don't have time to proactively pursue all the illegal activity," Parsons said. "At this point in time, it's on a complaint basis. Unfortunately, it's just not feasible to have someone work in that capacity."
When complaints come in about a licensed facility committing a violation, Parsons said, it has been her goal to educate rather than fine or take steps to shutdown a facility. She said that even fines would be reserved for the most "egregious of violations."
Only five formal complaints have been filed since the new regulations were passed, three of which were for alleged tattooing at an unlicensed facility, the other two were complaints against licensed facilities.
The low number of complaints isn't reflective of the prevalence of illegal tattoo operations. A quick search on Craigslist reveals plenty of advertisements for tattoo house calls and the illegal sale of tattooing and equipment to minors.
The most recent complaint received by the health department reflects what some shop owners see as another shortcoming of the law. Health department records, obtained by AnnArbor.com via a Freedom of Information Act request, showed a complaint was filed against Depot Town Tattoo for allowing a 16-year-old to tattoo an individual inside its facility. A video of the incident -- which was posted and has since been removed from YouTube -- showed Cook supervising her son work on a tattoo for her friend.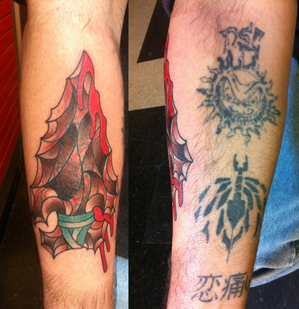 Photo courtesy of Dawn Cook
The law prohibits anyone under the age of 18 from being a body art technician. According to the report, Cook said she was unaware of the stipulation at the time. While Cook agreed to no longer allow such practices she thinks its another shortcoming of tattooing legislation because there is no provision for young people to learn the trade through apprenticeship.
The body art laws aren't all that is preventing apprenticeship for minors, though. Michigan's Youth Employment Standards Act prohibits persons under the age of 18 from any work involving bloodborne pathogens exposure. Thirteen specific work activities are prohibited for minors under the law including working with power drills, a tire changer and hot grease or oil among other things.
"So it's not just the body art industry that is limited in who can be trained in their profession," Parsons said.
The owner of Pangea Piercing in Ann Arbor, j.c. potts (who does not capitalize his name) -- who works out of Depot Town Tattoo and shot the video which was the cause for the complaint -- said he'd like to see an apprenticeship provision made to the law, too.
"Traditionally, it's a time honored thing that's how this trade gets taught to the next generation," said potts. "What better way to learn a trade than with parental supervision by a professional in a licensed facility?"
Potts is torn on the laws in general.
"While I do endorse the idea of certain minimum standards, what we'd have to do to accomplish that would be a gross overreach of what I think public safety should do," he said. "And then if we do enforce and are going into people's home, what are we talking about then? Involving law enforcement? Guns? I can't say I endorse that."
Potts said he fears that enforcement of laws, increasing standards and fees will just push business underground and decrease public safety overall.
"I would add that it's a nationwide problem, the Draconian laws for body piercing and tattooing. It's driving business underground," said potts. "It's also discouraging people from getting involved in the profession. People are saying 'screw it' rather than trying to address the tsunami of legislation."
Parsons admitted the prevalence of illegal tattooers is nearly impossible to stomp out given the resources the health department has to work with and doesn't foresee it being law enforcement's priority anytime soon. She hopes education of the public about the dangers of getting a tattoo or piercing at an unlicensed facility will encourage people to seek out one of Washtenaw County's 17 licensed body art facilities.
"I would like to focus more of our energies on the folks operating outside of the standards and hope to do more public education because I think there is a misperception about the non-licensed artists. People think they're being safer than they are and in some cases don't know certain operations are illegal," Parsons said.
Contact Pete Cunningham at petercunningham@annarbor.com or by phone at 734-623-2561. Follow him on Twitter @petcunningham.