Posted on
Tue, Aug 7, 2012 : 8:30 p.m.
Teall beats Eaton in 4th Ward race for Ann Arbor City Council
By Ryan J. Stanton
With all nine precincts reporting, Democratic incumbent Margie Teall has defeated Democratic challenger Jack Eaton in the 4th Ward primary race for the Ann Arbor City Council.
The final vote count was 866-848, giving Teall 50.5 percent.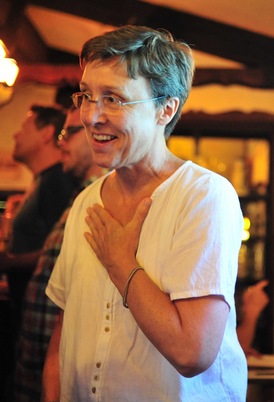 Ryan J. Stanton | AnnArbor.com
Cheers erupted at Heidelberg in Ann Arbor, where Teall was surrounded by supporters, as the final precinct counts rolled in at about 9:45 p.m.
Teall beat Eaton two years ago, pulling 69 percent of the vote, and it looks like she'll triumph again. The winner advances unopposed to the November general election.
Eaton, a labor attorney, has been heavily critical of the city for cutbacks in public safety over the past several years and said the city has its spending priorities out of whack.
He said during his campaign he'd push for more staffing in the police and fire departments and that the proposal to close fire stations alarms him.
"Ward 4 residents tell me city hall needs to focus on sensible priorities: Safety, public services and infrastructure," he said during the campaign. "I'm running because I believe Ward 4 residents deserve responsive leadership. I will answer your emails. I will return your phone calls, promptly."
Teall said during the campaign she's not an expert on fire department organization, so she's going to listen carefully to the advice of Fire Chief Chuck Hubbard, who recently recommended closing stations to better concentrate the department's limited staffing resources.
"Ann Arbor is doing extremely well in just about every measure for a city of its size," Teall said during the campaign. "We have just experienced our best budget year since I've been in office. We are now hiring back in our safety services area to fill police and fire positions."
Eaton said repeatedly during the campaign that he wanted to bring a more independent voice to council. He believes a majority of council members come to meetings with their minds made up.
Teall, who has been on council since 2002 and is a close ally of Mayor John Hieftje, argued the city values public process and is open and transparent.
The campaign brought out distinct differences between the two candidates. Teall is a big supporter of the concept of building a new train station in Ann Arbor, as well as expanding public transit services countywide — two ideas Eaton has his doubts about.
Ryan J. Stanton covers government and politics for AnnArbor.com. Reach him at ryanstanton@annarbor.com or 734-623-2529. You also can follow him on Twitter or subscribe to AnnArbor.com's email newsletters.