Posted on
Tue, Sep 3, 2013 : 5:59 a.m.
Motivation for success: Ann Arbor teachers share insights with their peers
By Amy Biolchini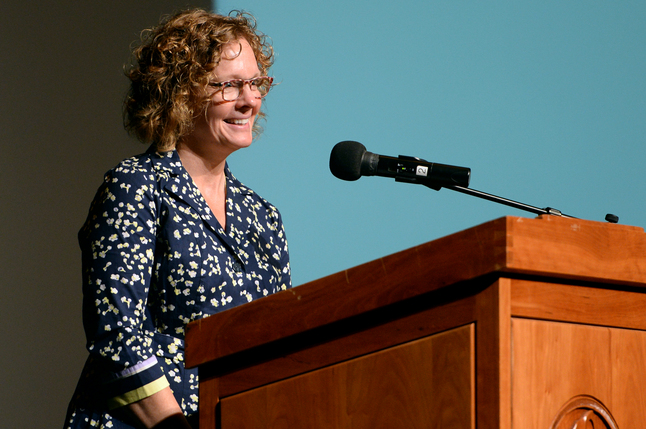 Melanie Maxwell | AnnArbor.com
Before the first pencils hit paper Tuesday on the first day of school, teachers in the
Ann Arbor Public School
district
gathered for an event
much like a pep rally to ready themselves for the year ahead.
This year, the event was somewhat different than in the past. Instead of listening to presentations of statistics and school performance, AAPS communications director Liz Margolis coordinated a series of inspirational speeches modeled after TED Talks.
Four teaching professionals shared their inspiration and insights with a large crowd of teachers and school staff: Wendy Rothman, teacher at Mitchell Elementary School; Ellen Daniel, English teacher at Scarlett Middle School; Alesia Flye, deputy superintendent for instructional services; and Don Packard, English teacher at Pioneer High School.
The presentations from each speaker received a warm reception from the audience.
What you say matters
Rothman spoke first in a reflective address to remind teachers that how they talk to their students and arrange their classroom has a major impact on how a student's day and school year goes.
She began with an example of how to deal with a student that's sitting in the hallway before class begins, refusing to come in and sit down at his desk because he's forgotten his library book, lost his coat and lost his homework folder.
"What is he thinking? He's thinking, well, I can't take a book out from the library because I don't have the other one to turn in. He's thinking, I don't know where my homework folder is at my house. I don't have a coat and I can't go outside-that's my favorite time of the day," Rothman said. "It's a crucial moment for him. And that moment is in my hands. In fact, his entire day is in my hands. I could, by using the wrong words and the wrong tone, sacrifice this day to all that he doesn't have."
Rothman cautioned that what she says to the student to get him to come in to the classroom is vitally important-not only because it sets the tone for how the student perceives the classroom experience, but to set an example to the other students in her classroom on how to treat people with respect.
"So what is my response to this student to communicate to him. 'Look, these problems are not serious. I want you to bring your things to school but we can't worry about those problems all day. I know you can turn this day around—I want you to be here learning with us,'" Rothman said.
The layout of a classroom and the names that are given to each part are important to communicate what happens in each space so that there's a structure for positive activity and interaction, Rothman said.
"There is something about being a teacher that's like being a rock star. ... Think about that time in the classroom when you're inside preparing and the students begin to gather in the hallways. The excitement is palpable. In my school, the kids cannot wait to get in to see and hear what we teachers have prepared for them," Rothman said. "We have to be cognizant of the messages we're sending to kids."
Give your students unique experiences
Daniel spoke next. Working in AAPS was her "dream job" in college, Daniel said. She tries to be best version of herself that she can be for the children in her classroom to set a good example, she said.
"We teach children from extraordinary privilege in this district—yet some of my children have never been downtown. Parents of some of our students are among the most accomplished the world has to offer—and some are unable to navigate educational institutions effectively or to assist their own children in doing so," Daniel said. "Some have never walked the Diag or explored the U of M campus or the campuses of Eastern Michigan University or Washtenaw Community College.
"Some of my students are definitely living the life on the fringe of our rich educational environment. In a society that requires higher and higher levels of academic competence just to survive, some of our students truly need more from us in order to make the connection between success in school and success in life. Unless I make deliberate choices about expanding their lives beyond their current situation, I haven't done my job."
Daniel said she's found that one of the most fulfilling experiences as a teacher have come after she's found partnerships and collaborations with organizations and other teachers that have resulted in classroom experiences that her students would have never had otherwise.
In her classroom of 7th graders, they were able to publish a book of student works through a collaboration with 826 Michigan.
"Those experiences happened in my building and for my students because we take the extra time—and I'm not going to sugarcoat it— it does require extra time. However, I feel like I'm a much better teacher because I take that time. It's an investment I ask of them but it's an investment that's required of me," Daniel said. "While it's indisputable that we're challenged by declining monetary resources, and the shame of that is a topic for another day, it's never been easier to collaborate to bring in high-quality resources in to our classrooms."
Not only are partnerships with organizations, local colleges and universities important to pursue, but online tools like NPR are valuable ways to expand the realm of expert voices that you can bring in to the classroom, Daniel said.
"For me, collaboration has been the way to maintain my enthusiasm for the profession and continue to grow as a professional," Daniel said. "Resources are there. We just have to be on a constant quest for how to best utilize them to serve our students."
Learning from abroad
Flye was a part of a team from AAPS that traveled to Singapore this summer in a partnership funded by Toyota. The team consisted of teachers and administrators.
Much of the trip was focused on science and math programs, and some of the institutional differences between the two educational systems. Flye said Singapore teachers say they're "privileged" to do 100 hours of professional development, while it's common for teachers in the U.S. to describe professional development as "required."
"It elevates us as professionals when we talk about the privilege of learning and growing our craft," Flye said.
Schools in Singapore have a strong focus on pedagogy and research-based instruction. The team from AAPS toured a classroom of the future—which of course did not contain one pencil or sheet of paper.
Flye said she also spoke with industry partners while on the trip about what the needs are for the workers of the future—many need engineers.
While she sees those skills developing in high schools in AAPS, talking with industry partners in the future to see what professions will be in the highest demand is something Flye said is important to pursue.
Making literacy fun
Packard, chairman of the English department at Pioneer High School, ended the TED Talks with an engaging, humorous look at how to inspire literacy and why it's important.
Watch a video of Packard's talk:
Amy Biolchini is the K-12 education reporter for AnnArbor.com. Reach her at (734) 623-2552, amybiolchini@annarbor.com or on Twitter.