Teen sentenced to 4 years in prison for armed robbery of pizza delivery driver
Posted on Thu, Aug 16, 2012 : 3:41 p.m.
Courtesy of Washtenaw County Sheriff's Office
One teen got prison time and a second pleaded no contest last week in the armed robbery of a pizza delivery driver in Ann Arbor in April.
In addition to receiving a sentence of between four and 20 years in prison, Jeffrey Howell, 18, of Ann Arbor, pleaded guilty to a second-degree home invasion charge for stealing a Sony PlayStation video game system in a separate incident that took place a few weeks before the two teens robbed a Bell's Pizza delivery driver.
Howell pleaded guilty to one count of armed robbery and one count of conspiracy to commit armed robbery on July 5.
His co-defendant, 19-year-old Anthony Hugan, also appeared before Judge David Swartz in the Washtenew County Trial Court where he took a plea deal that likely will land him in prison for at least three years.
The two teens were involved in the robbery of a 38-year-old male Bell's delivery driver at 1 a.m., April 12 in the 1000 block of Bluestem Lane in Ann Arbor. Police said they took cash and the pizza. They tried a similar robbery a week later with a Chinese food delivery driver, but were unsuccessful, police said.
Howell received prison time despite Christopher Renna, assistant Washtenaw County public defender, asking Swartz to consider departing from the sentencing guidelines because of Howell's youth and because he showed remorse for what he did.
"I take full responsibility for my actions," Howell said. "I feel bad now. It's hurt (my family) just as much me."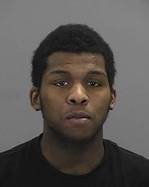 Courtesy of the Washtenaw County Sheriff's Office
Assistant Washtenaw County Prosecutor
Brenda Taylor
portrayed Howell differently and argued for prison time within the guidelines.
"The defendant's history speaks for itself. He's … on a criminal spree," she said, citing the home invasion charge.
Howell pleaded guilty to that charge Aug. 9 and will be sentenced to additional jail or prison time on Aug. 30.
Earlier in the day, Hugan appeared before Swartz where he pleaded no contest to a count of armed robbery and conspiracy to commit armed robbery. The no contest plea was entered so Hugan could avoid civil liability. It is treated much the same way as a guilty plea by the court.
As part of the plea agreement, Hugan will be sentenced a minimum of three and a half years in prison. Hugan had been free on bond, but the judge denied a 30-day continuation. Hugan was remanded into police custody after his hearing.