Posted on
Thu, Feb 25, 2010 : 5:52 a.m.
Tell them about vacation when you get back to avoid break-ins while you're gone
By Rich Kinsey
Pleaserobme.com is a website that searches social networking sites and reports where people have written they are or where they're going. The point of the site is that when people share where they are, it might also show a thief when they are not at home.
Perhaps we put too much information on social networks. It may impress some of your closest friends on Facebook that you are jetting off to Europe with Paris, Britney and Lindsay, but it also tells some of your marginal acquaintances your home will be empty for the next several weeks. 
It would be wiser to show pictures of your trip after you get home to prove you went to Europe with the girls and not to drug rehabilitation with them.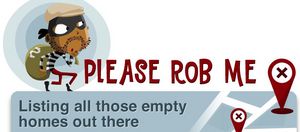 With winter snowing down upon us, many are making travel plans to somewhere warm and sunny. It is again time to safeguard our homes on the way out of town.
One of the easiest ways burglars find unoccupied homes in this weather is to look for the house with the unshoveled driveway. Make sure if you're traveling that someone is shoveling your walk and driveway for you. It is not only a good crime prevention technique, but it is also your legal responsibility to keep the sidewalks in front of your home free of snow and ice.
Suspend newspaper delivery while you're gone and have your friendly neighbor who is shoveling your walk also collect your mail. It's not a bad idea to have your neighbor park in your driveway or at least drive up and down a few times to put some fresh tire prints in the drive.
If you're the neighbor checking a property, look for shoe impressions in the snow around the house. If they go up to windows, check all the way around the property to make sure entry has not been made If you find a broken door/window where entry has been gained, back off and call 911 so the police can check the residence.
Be careful who you tell when leaving on vacation - whether it's online or in person. It probably won't be a friend who breaks into your home, but a "friend of a friend" who gets the information may decide to break in. Caution your teenage children not to broadcast your family is going on vacation. Again, it is the "friend of a friend" with larceny in his or her heart and a substance abuse problem who will break in to your home.
Remember to use light timers in various rooms and consider leaving a talk radio station on in a back bedroom or somewhere a potential burglar will hear it. Let your trusted neighbors know you will be gone and leave them with contact information so they can get in touch with you should the unthinkable happen.
If you're a student leaving on winter or spring break, make sure to lock your doors and take all your valuable electronics with you or hide them as best you can. If your schoolwork is on your laptop, make sure you back it up on an external storage device and hide that separately.
I wish you well on your trips to warm climates. I will be enjoying a Michigan winter, watching the snow falling, writing these pieces and shoveling my traveling neighbors' walks.
Lock it up, don't leave it unattended, be aware and watch out for your neighbors.
Rich Kinsey is a retired Ann Arbor police detective sergeant who now blogs about crime and safety for AnnArbor.com.