Posted on
Sat, Mar 9, 2013 : 4:20 p.m.
Ann Arbor residents might see 50-degree weather Sunday
By Lisa Carolin
Spring is inching its way in our direction with Daylight Savings Time beginning at 2 a.m. Sunday. We spring our clocks ahead one hour, lose that hour of sleep, but gain extra daylight.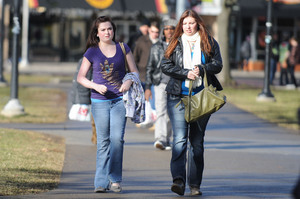 AnnArbor.com file photo
On Sunday, the temperature may break the 50-degree mark, with a 50 percent chance of rain. The chance of rain increases to 70 percent Sunday night with rainfall amounts near 0.3 inches possible.
Temperatures are predicted to be in the 40s at the start of next week with a high of 43 degrees Monday and a 50 percent chance of rain. That rain could change to snow Monday night when the windchill may get as low as 16 degrees.
A partly cloudy day is predicted Tuesday with a high temperature of 40 degrees but a windchill as low as 18 degrees.
The sun will set Saturday at 6:35 p.m. and will rise Sunday at 6:56 a.m.
For updated forecasts and conditions any time, check AnnArbor.com's weather page.