Posted on
Sat, Jan 19, 2013 : 10:43 a.m.
Temperatures and windchills going down to the single digits this weekend
By Lisa Carolin
Brace yourselves for a forecast of cold and windy conditions with low wind-chills in the next several days, with the forecast dropping to negative numbers.
If you have things to do outside, the time to do them is now. The forecast is for some sun and a high of 45 degrees though the winds will gust up to 30 miles per hour, with a 20 percent chance of rain.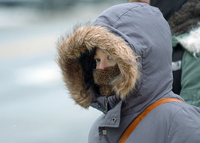 According to Weather Underground, tonight the temperature will drop to 19 degrees with a wind-chill as low as 5 degrees along with snow showers and rain turning to snow showers. There's a 40 percent chance of snow.
Sunday's high is predicted to be 23 degrees with a windchill at 3 degrees and winds up to 35 miles per hour. The chance of snow is 30 percent Sunday, and overnight the windchill will go as low as 5 degrees.
Monday's high temperature continues on a downward trend, and only is predicted to hit 19 degrees with a windchill again as low as 5 degrees. There will be a 40 percent chance of snow.
The low will be 7 degrees Monday night and the windchill could go 8 degrees below zero. Tuesday's high will be 16 degrees with a windchill as low as 9 degrees below zero.
The average high for today is 32 degrees and the average low is 19 degrees.
For updated forecasts and weather conditions anytime, visit AnnArbor.com's weather page.