Posted on
Thu, May 24, 2012 : 4:40 p.m.
House approval of temporary liquor license for Michigan Stadium delights some, concerns others
By Kellie Woodhouse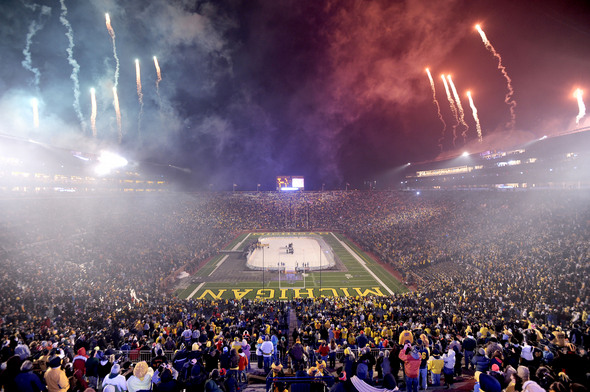 The
National Hockey League
is a step closer to serving alcohol at
Michigan Stadium
during the
2013 Winter Classic
.
The state House of Representative passed HB 5611, which now awaits approval from the Senate. The bill would allow the NHL's concessionaire to serve alcohol at the normally liquor-free Big House.
The University of Michigan and NHL announced in February that the Winter Classic —one of hockey's largest yearly events— will take place in Ann Arbor on January 1, 2013. The NHL is trying to break the world record for hockey attendance, which was set at the Big Chill in 2010 when U-M faced Michigan State University at Michigan Stadium to a crowd of 104,173.
The NHL is paying U-M $3 million to use Michigan Stadium for the Detroit Red Wings match against the Toronto Maple Leafs.
U-M Athletic Director Dave Brandon said in February that securing a liquor license is key to hosting the event at Michigan Stadium.
"The NHL views it as an important element to the success of the event," said Rep. Mark Ouimet, R-Scio Township, who introduced the measure earlier this month. Ouimet said the NHL relies on revenue garnered from alcohol sales. "They have to duplicate the opportunity they would have in their own arenas," he told AnnArbor.com.
U-M originally intended to use one of 12 special one-day liquor licenses it's granted each year, but school officials discovered the temporary licenses aren't applicable to large crowds like the one expected at the stadium on Jan 1, 2013. In response, Ouimet proposed HB 5611, which passed the House today with bipartisan support.
"From an economic development standpoint, the amount of people this will bring to southeastern Michigan for the events leading up to the game and the game is going to be a real boon to the area," Ouimet said.
According to Brandon, the typical home football game generates between $14 and $15 million in business for area hotels, restaurants and merchants.
"This I actually would suggest would be greater," Brandon said in February, explaining that a national event will bring more outsiders into Ann Arbor and that a noon start would likely force them to stay the night.
Ann Arbor Councilwoman Margie Teall, who lives in Burns Park near the stadium, said "residents are concerned" about having alcohol at Michigan Stadium.
"I am just hoping concessionaires will be sensitive to how much people are drinking," Teall said. "The concern for all of us in the city is that you're serving this many people liquor and they're going to get in their cars and drive somewhere."
University spokesperson Rick Fitzgerald said the 30-day liquor license "doesn't change anything" and that Michigan Stadium will remain dry.
Ouimet said he doesn't expect alcohol sales to create a problem during the event.
"It will certainly be in a controlled environment," he said. "There is certainly alcohol outside the stadium for home football games. I think the alcohol consumption would move inside a closed area."
Kellie Woodhouse covers higher education for AnnArbor.com. Reach her at kelliewoodhouse@annarbor.com or 734-623-4602 and follow her on twitter.