Tents, equipment remain at Camp Take Notice; march planned to governor's house
Posted on Fri, Jun 22, 2012 : 2:59 p.m.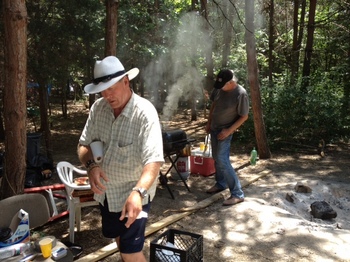 John Counts | AnnArbor.com
A dozen people - about half former camp residents and half volunteers - remained at Camp Take Notice on Friday afternoon.
Many tents and equipment had also yet to be broken down.
John Litle, a camp supporter, said he was willing to get arrested for trespassing on the land past last night's midnight extension.
"I'd be happy to do it for a statement," he said.
Some of the campers plan to make a statement Friday by marching to Gov. Rick Snyder's residence in Superior Township on Friday evening. The march is scheduled to start at Geddes Dam at 3:45 p.m. There will be an hour-long rally before the group departs at 5 p.m.
"We'll go as far as the footpaths will take us," read a flyer tacked to the camp's community bulletin board.
Camp Take Notice once housed dozens of people before the Michigan Department of Transportation initiated an eviction from the state-owned property in Scio Township near Wagner Road.
With most of his former co-residents gone, Litle sat Friday near a smoking barbecue grill being stoked by another supporter, Art Taylor, as they prepared lunch.
Tate Williams, who co-founded the camp, sat on a cooler nearby.
He said the only reason anyone was still on the land was for the clean-up effort.
"We want to cooperate with MDOT," he said. "We will make every effort to do so. We've developed a good enough relationship (with MDOT) I don't want to destroy," Williams said. "We're hoping MDOT will allow us not only to relocate the individuals that left, but also (find new) property to continue to satisfy the always present need."
MDOT said they plan on giving the camp at least another day, but that could be extended. Williams estimates that it will take two or three more days to clean up the rest of the camp.