Posted on
Wed, Nov 21, 2012 : 3:15 p.m.
Thanksgiving forecast: Nice for Turkey Day; rain, snow showers to follow
By Cindy Heflin
Ann Arbor-area residents planning to take in the Thanksgiving Day parade in Detroit, participate in the annual Turkey Trot in Ann Arbor or just work off that turkey dinner with a long walk will be treated to unseasonably warm weather and sunny skies for most of the day Thursday.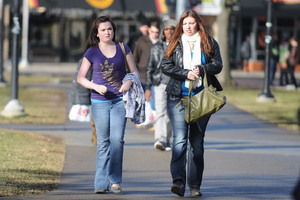 Angela J. Cesere | AnnArbor.com
Better take advantage of it while it lasts though. By Thursday night, rain is likely, and snow flurries are in the forecast for Friday night and Saturday.
After some fog early in the day Thursday, mostly sunny skies will prevail for most of the day with a high of about 59 degrees, the National Weather Service says. Weather.com predicts an even warmer day with a high reaching to 62 degrees, more than 20 degrees above the average high in the high 30s for this time of year.
But the weather will begin to change Thursday night. Showers are likely, mainly after midnight, and it will be mostly cloudy with a low around 45. The chance for rain is 60 percent.
Friday, it will be mostly cloudy with a high near 45 and breezy with a west-northwest wind of 13 to 18 mph, gusting to 29 mph.
Friday night, snow flurries are possible with a low around 28.
Saturday will be cloudy with a chance of flurries and a high near 35.
Sunday will be partly sunny with a high near 39.
Monday will be mostly cloudy with a high near 39. Rain and snow showers are possible Monday night and Tuesday.
For forecasts and weather conditions any time, check AnnArbor.com's weather page.