Posted on
Sat, Nov 19, 2011 : 5:58 a.m.
Thanksgiving holiday slows fans planning for last U-M home game
By Paula Gardner
This weekend promises to be busy in Ann Arbor as the University of Michigan Wolverines host Big Ten newcomer Nebraska: Hotels are full, restaurants are booked and catering services are busy.
But with the traditional biggest game of the season still one week away, some businesses are wondering: Why isn't that happening for the Ohio State weekend?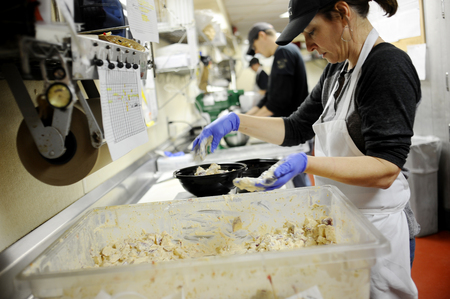 Melanie Maxwell | AnnArbor.com
The answer, said Mary Kerr of the Ann Arbor Convention and Visitors Bureau, seems to be the holiday that's in between U-M's final two home games of the year.
"(Thanksgiving) falls right in there," she said. "Everyone seems focused on that holiday."
Typical U-M schedules see the Wolverines ending their season with the Ohio State game on the weekend before Thanksgiving, clearing the calendars for players, fans and students to enjoy the holiday.
This year, the team will take the field in Ann Arbor two days after Turkey Day.
While most agree that the game will still be a huge draw, they're also wondering when people will turn from planning their Thanksgiving events and commit to their gameday plans.
Many hotels still have rooms available for Nov. 25-27, and some entertainment venues report slower-than-usual bookings for a big game weekend.
"I think it's (due to) a combination of things, but we're not sold out," said Joe Sefcovic, general manager of the Holiday Inn on Plymouth Road.
The facility is the largest in Ann Arbor, with 225 rooms. And it usually does a brisk business during home football games. But so far, with the Buckeyes coming to town next weekend, there's an atypical 50 rooms left, Sefcovic said.
There's a similar pattern at Haab's in Ypsilanti, said David Kabat. This weekend has reservations for multiple groups aiming for a post-game dinner at the restaurant. A look at next week's calendar shows - so far - nothing.
The weekend after Thanksgiving is always slow, Kabat said, "but being that it's a home game and OSU" it's bound to pick up. Eventually.
At Zingerman's Catering in Ann Arbor, orders for last-minute parties and Nebraska game tailgates kept coming in even on Friday, manager Nancy Eubanks said.
The net result for the Nebraska game will be solid, though not like the extraordinary levels hit during the Notre Dame game.
But, looking ahead, the OSU week looks much slower so far.
"(Thanksgiving) makes a bit of a difference," Eubanks said. "… I feel like it's confusing people."
Home football games are big business, Kerr said, with estimates pegging the economic impact at $10- to $15 million for each event.
While Kerr said the businesses she's talked to expect Ohio State bookings to gain momentum by the time people put Thanksgiving behind them and the teams kickoff on Nov. 26, some in Ann Arbor already are looking ahead to the 2012 season.
"We're going from eight home games to six," Sefcovic said. "That's going to have a huge impact."