Posted on
Sun, Sep 2, 2012 : 5:57 a.m.
The big business of towing: Records show thousands of vehicles per year impounded in Ann Arbor
By Ryan J. Stanton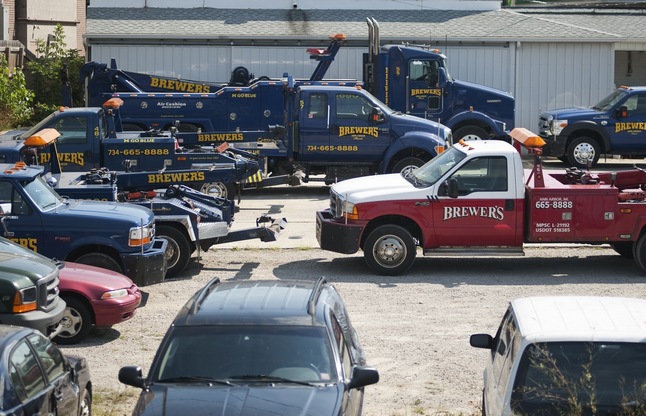 Daniel Brenner I AnnArbor.com
Nearly 12,000 vehicles were
towed and impounded in Ann Arbor
over the past three years, according to data released by the city in response to a Freedom of Information Act request.
That's more than 10 a day, and that includes more than 6,700 public tows that were ordered by the city and more than 5,000 tows that occurred on private property.
Based on known fees charged by the city and towing companies, the public tows alone easily cost vehicle owners in the seven-figure range.
With a $60 administrative fee charged per public tow, the city collected more than $400,000 in towing fees on the impoundments it ordered.
Tom Crawford, the city's chief financial officer, said that revenue covers the city's costs and isn't a money-maker for the city or the police department.
Crawford also clarified that though the city keeps track of private tows, it isn't involved with them and doesn't collect towing fees for them.
"Private tows result from contracts or agreements between a private property owner and a private tow company," he said. "The city requires notice of all private tows so the police can tell an inquiring vehicle owner their vehicle was towed versus stolen."
Ann Arbor currently contracts with three companies for its public tows: Brewer's Towing, Sakstrup's Towing and Triangle Towing.
The city can order vehicles to be towed for legal violations, court orders, evidence collection and other circumstances, including parking where they shouldn't.
The tow companies charge $120 per tow, plus $20 a day in storage fees, putting their revenue at around $1 million or more for the 6,700-plus public tows.
Dennis Brewer, who owns both Brewer's Towing and Sakstrup's Towing, declined to comment except to say his company is helping the city and isn't out to get people.
"You write what you have to write and do what you need to do, but I have nothing to say to you," Brewer told AnnArbor.com.
Scott Snuverink, who owns Triangle Towing, could not be reached for comment.
The only tow company owner AnnArbor.com could get to talk about his business was Tom Van Sickle, who owns Fox's Towing in Ann Arbor.
"I'm in a different situation than the other tow companies," Van Sickle said. "I don't impound. We used to back in the early 2000s for a couple of years, but impounding is not what we wanted to make our living doing, so we're here to help people really — not take their cars."
The big business of towing
Unlike his larger competitors, Van Sickle said Fox's Towing doesn't have any contracts with the city to tow cars from public places and impound them. The bulk of Van Sickle's work takes place on the city's west side where he works as a AAA Michigan contractor and responds to calls for help.
Is towing big business in Ann Arbor?
"For some it is, but for us it's not," Van Sickle said. "We're the little guy in town."
Van Sickle, who has owned Fox's Towing since 1998, said he doesn't frown upon other companies for doing impound work — somebody has to do it.
"Brewer's has gotten a bad rap," he said. "I can tell you for a fact that no tow company drives around the city of Ann Arbor and looks to take people's cars off the street. Nothing can be towed off a street in Ann Arbor without approval from the city. They're the ones that order those tows."
Van Sickle said he went into business to help people, and he believes that's why anybody goes into towing.
"But the city contracts are very lucrative and it's not the tow company that creates that money — it's the city of Ann Arbor that creates the work for the tow company," he said.
In addition to the 3,868 vehicles impounded in Ann Arbor last year, Sheriff Jerry Clayton said there were about 1,353 other vehicles impounded elsewhere in Washtenaw County.
That includes 849 private property impounds and, based on a 30-day sampling of data, probably a little more than 500 public impounds ordered by police, Clayton said.
Ann Arbor and Washtenaw County have worked out a new deal to transfer most administrative responsibilities for public tows to the county starting Jan. 1, with a few perks for motorists.
Under the new arrangement, the city's $60 administrative fee for public tows is being reduced to $45, with $30 going to the county and $15 staying with the city. Tow companies that want to do the work must offer an eight-hour storage fee grace period, which Brewer has complained about.
Crawford estimated the city will collect about $30,000 a year in administrative fees for towing under the new lower-cost arrangement.
The rules around towing
The city has gotten backlash recently for towing vehicles belonging to residents who parked their cars on streets near their homes. The city has an ordinance that deems vehicles abandoned if they're not moved within 48 hours, and the city tows if they're not moved.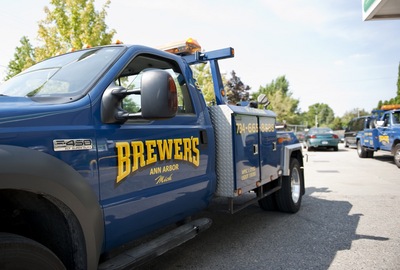 Daniel Brenner I AnnArbor.com
According to data provided by the city, 109 vehicles were towed by the city between 2010 and 2011 because they didn't move for 48 hours and were deemed abandoned.
"People when they leave their cars for a good period time are essentially using the public street for private parking," said Senior Assistant City Attorney Kristen Larcom. "The streets aren't meant for long-term private parking."
Larcom said the city's abandoned vehicle ordinance is rooted in state law.
A section of the Michigan Vehicle Code dating back to 1949 considers a vehicle abandoned if it has remained on private property without consent of the owner, if it's left on public property for 48 hours, or if it's left on a state highway for 18 hours. The law also says a vehicle can be deemed abandoned immediately if it's left on a state highway without a valid registration plate.
"The city has always towed in the same manner and followed the same procedure as do the state police under the statute," Larcom said. "This is probably enforced in a lot of cities in Michigan."
AnnArbor.com reached out to the city of East Lansing, home to Michigan State University, to compare towing experiences between the two rival college towns.
Megan McFarland, assistant to the city manager, said East Lansing doesn't keep track of the number of public tows it orders each year, but it does follow a process similar to Ann Arbor's.
"If there is someone parking in a public lot/space, they are issued a ticket and have a set amount of time (typically 48 hours) to remove the car or it will be towed to our impound lot," she wrote in an email on Friday. "The owner would then be responsible for any ticket that was issued and the $20/day fee to remove the vehicle from our impound lot."
McFarland said the fees the city collects are from tickets and its own impound lot fees. East Lansing doesn't charge an administrative fee like Ann Arbor does.
The other fees charged in East Lansing vary by towing company, she said, as each one gets to set its own rates for towing. AnnArbor.com checked with two companies that do public tows in East Lansing and found one charges a flat $90 and one charges $95 plus $3.50 per mile.
Outside the $120-per-tow arrangement with Ann Arbor and Washtenaw County, Brewer's and Sakstrup's charge private citizens $47 to tow a car plus an extra $4 per mile and a 10 percent fuel surcharge. Triangle Towing charges $45 plus $4 per mile and a 10 percent fuel surcharge.
Van Sickle of Fox's Towing said he charges $48 plus $3.50 per mile. Asked why he doesn't bid on the $120-per-tow city contract, he said his three-truck operation couldn't handle the workload.
"I could bid on it, but I don't have the equipment or the property to handle that contract. You need a lot of space and trucks to deal with that contract," he said.
"That contract keeps somebody very busy," Van Sickle added. "There are times during University of Michigan football games when the city will call Brewer's and ask for 15 cars to be moved off one street. You need a large workforce to handle that."
Council Member Sabra Briere, who has been studying the issue, said she's learned the fees for public tows are higher because the requirements for municipal towing are different from private towing, and the city's contract with the tow companies requires that they respond to all complaints.
Briere noted the contract also requires that the contents of a towed vehicle are protected and insured while in the company's possession, and police require tow trucks to respond within 20 minutes — and that access to the trucks and the impound lot be guaranteed all day, every day.
"I know that Mr. Brewer — whom I don't know — mentioned that he has to staff the lot every day, around the clock," she said.
Ryan J. Stanton covers government and politics for AnnArbor.com. Reach him at ryanstanton@annarbor.com or 734-623-2529. You also can follow him on Twitter or subscribe to AnnArbor.com's email newsletters.