Posted on
Fri, May 17, 2013 : 6:07 p.m.
Ann Arbor installs bike 'fix-it' stand for downtown cyclists
By Chelsea Hoedl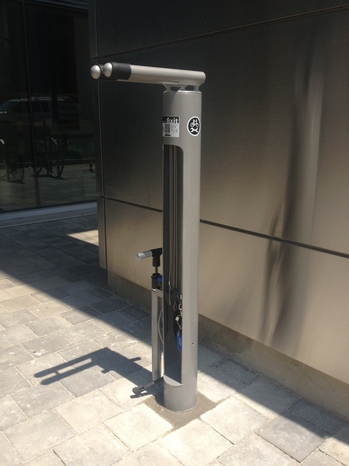 Fix-it stand at 301 E. Huron
The city of Ann Arbor is showing downtown cyclists some love on this year's Bike to Work Day, an annual event sponsored by The League of American Bicyclists.
The city installed a bicycle "fix-it' stand Friday morning in front of the Ann Arbor Municipal Center at 301 E. Huron St., according to a press release.
The stand, which is located next to the Justice Center's bike racks, contains a variety of tools including an air pump and a hanger arm which gives commuting cyclists the ability to repair and maintain their bikes.
A commuting station was set up this morning by Downtown's Commuter Challenge Program, a competition throughout the month of May that encourages Ann Arbor employees to walk, bike, carpool, or take public transportation to work.
Commuters that stopped by one of the eight stations located around town enjoyed free food and the chance to win prizes. Those that stopped by the City Hall station were also able to learn about the new fix-it station.