Posted on
Tue, Mar 15, 2011 : 8:24 a.m.
Report: University of Michigan-led ALS stem cell trial moves forward
By Juliana Keeping
A University of Michigan-led clinical stem cell trial for Lou Gehrig's disease is poised to take an important step forward.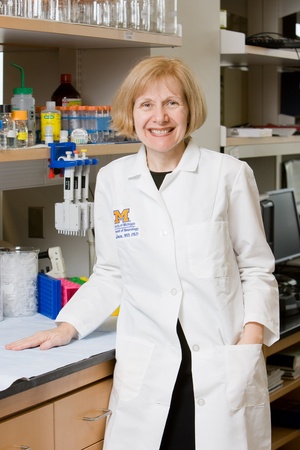 Photo courtesy of the University of Michigan
The trial, led by University of Michigan neurologist Eva Feldman, has been evaluating the safety of injecting millions of stem cells into patients' spines, The Detroit News reports.
Next, the trial will begin testing the safety of the procedure
in the part of the spine that could save lives, according to The News.
Amyotrophic Lateral Sclerosis, also known as Lou Gehrig's disease or ALS, is a neurological condition that robs its victims of their ability to speak, move and eventually breathe, while leaving their minds alert. Roughly 30,000 Americans are afflicted with the disease and 5,600 diagnosed each year, according to the ALS Association.
The study is being conducted at the Neuromuscular Laboratory at Emory University in Atlanta with Feldman on board as a consultant to Neuralstem Inc., the trial's sponsor.
Juliana Keeping is a health and environment reporter for AnnArbor.com. Reach her at julianakeeping@annarbor.com or 734-623-2528. Follow Juliana Keeping on Twitter