Posted on
Tue, Apr 27, 2010 : 6:48 p.m.
Students still lining up for President Barack Obama commencement tickets
By James Dickson
The line for graduation tickets might not stretch past Hill Auditorium anymore, but soon-to-be University of Michigan graduates continued to make a strong showing today for tickets to Saturday's commencement.
Ever since U-M announced President Barack Obama would be the keynote speaker at the May 1 graduation ceremony at Michigan Stadium, commencement has been the hottest ticket in town.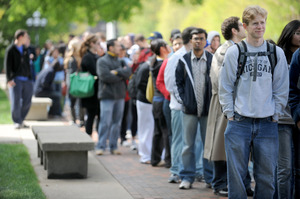 Angela J. Cesere | AnnArbor.com
Janice Jenkins, senior marketing and membership manager for the University of Michigan Alumni Association, where ticket pickup is being held, said in a normal year, day one of ticket pickup draws the biggest response - and it trickles off from there.
Not this year with a sitting president giving the keynote address. This year, day two of ticket pickup was even busier than day one, Jenkins said with 90 minutes of ticket pickup remaining.
"Usually there's more of a trickle at night," Jenkins said as students snaked from the alumni center on East Washington and Fletcher to the west entrance of the Michigan League. But today, it was a steady crowd throughout the day.
Students graduating on May 1 are granted up to eight tickets for commencement. Staffers with the alumni association said most students have taken the full allotment.
Wednesday is the third and final day of ticket pickup for graduates. Though interest in Obama's commencement speech remains strong, Wednesday's crowd isn't expected to be as big as either Monday's or Tuesday's crowds.
That's because most of the student tickets have already been picked up. With an estimated 8,000 students set to graduate Saturday, and nearly 3,000 students grabbing tickets on both Monday and Tuesday, only about 1,500 to 2,000 soon-to-be graduates have yet to secure tickets.
Commencement ticket pickup will resume Wednesday morning at 8 a.m. and will continue through 7 p.m. Tickets for the general public and university community will be available from 9 a.m.-5 p.m. Friday - although the university hasn't announced how many will be distributed.
James David Dickson can be reached at JamesDickson@AnnArbor.com.