Posted on
Sat, Sep 7, 2013 : 5:58 a.m.
Little house on the Ferry: University of Michigan's athletic campus was Hurst family's playground
By bob horning
Once upon a time there was a little white house enclosed by a big brick wall. Inside that three bedroom house lived four little children - Pam, Priscilla, Gary, and Terry; and their parents, Bob and Lois Hurst.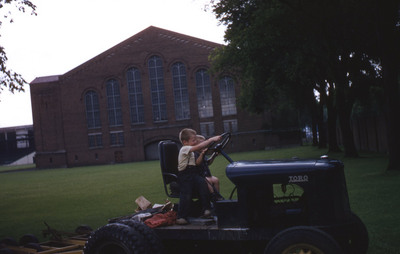 Family photo
In their backyard was the University of Michigan football practice field. A stone's throw away stood the basketball and track field house, and a short walk took them to the football or baseball stadium.
It has been decades since the children lived their own version of fantasy football. The house was torn down in the 1987 and replaced by Schembechler Hall; much of the brick wall is now gone and new facilities have sprung up; those simple days have given way to the big business of college sports. But the memories remain.
Even Priscilla (now Harris), who didn't like sports, said it was fantastic living there. "There was always something exciting," she said. "Pep rallies with a bonfire at the outdoor track; crisp, fall football days when the whole town was deserted because everyone was at the game, making it easy to drive around."
Gary said "it was a whole different world. Until we got older, we didn't appreciate it because it was just our way of life, what we grew up with, all that we knew. It was a fun childhood."
The thirty acres of land was named Ferry Field after Detroit businessman Dexter Ferry who donated it for the development of athletic facilities. To the Hurst children it was a huge playground. The house was the farmhouse on the acreage.
The darkness of Yost Field House made it a perfect place for playing hide and seek or climbing the ropes that were there for the athletes. Terry would run on the artificial football practice field after the players were gone for the night and run through the tires. The blocking dummies were toys for them all to be played on.
Pam (Gibb), the oldest, remembers cars being parked at Ferry Field for the football games and the buses which brought the high school bands for the annual band day. "The Michigan marching band practiced in our backyard and the ROTC was there on Saturday," she said.
"It was a neat experience. You couldn't beat it. Who else has a football team in their yard? On Saturday afternoons I would sit on the front porch waiting for the band to come back after the game, watching to see if their hats were on backwards, indicating a victory. Sometimes I would go at half-time and get in free, especially when I became a teenager and learned that it was a good place to meet boys."
Gary and Terry got to mingle with the players and coaches before and after practice. "The biggest deal for me was getting to know the players as people, not just as players," Terry said. "Some of the players and coaches would explain to Gary and me how to do things. Stan Kemp, who played in the mid 60s and was a punter, showed us how to kick the ball, for example. And Bump Elliott (the coach from 1959-68) would give us tips on different things.
"It was a little tricky, though. They were all busy, so we had to learn when to talk to them and when not to. Our parents told us not to bother them once practice started."
Because Bob was the head of maintenance for the athletic department, his family was able to live in the house. He had come back to Ann Arbor after serving in the Army Air Corps. for three years as a radio operator in a B-24 bomber, flying 34 missions over Germany and France. On the 34th, he was wounded in both legs by enemy flak and was in the hospital for a few months afterwards. He began working at the athletic department on a temporary basis in 1945 and ended up staying 41 years.
Besides the fun and excitement, there were a few scary times at the house. In February 1959, the furnace blew up and the house caught on fire. At the time, Bob and Lois were gone, and Bob's parents were babysitting. The fire department responded quickly, and Pam and Priscilla were able to jump out of the second-story window into the arms of the firemen. Gary and Terry, however, were overcome by the smoke. One of the firemen climbed a ladder, crawled along the ground to the unconscious boys, and carried them out one at a time. They both woke up later at the hospital in oxygen tents.
In May of the same year, a tornado tore a corner of the roof off of Yost Field House and a big tree broke through the brick wall. The patch job is still visible. Then there was the time that Priscilla fell out of the second-floor window while waving to her uncle who was approaching the house. Fortunately, the lawn had been freshly laid with sod; Priscilla landed on her hands and knees, got up and walked away unhurt.
Shortly after, though, she was playing on the bandstand that Dr. William Revelli (director of the marching band) used. She climbed two steps, fell off and broke her arm. Figure that out.
A special treat for the family was when the helicopters would land at Ferry Field. That was typical when the governor would come for the Michigan State game. In 1965, President Lyndon Johnson landed there, then headed to the stadium to give the graduation commencement address.
Another man who would become president, Gerald Ford, often watched football practice when he was in Ann Arbor (he played for Michigan from 1932-34), and he and Bob became well acquainted.
Lois, who said she doesn't know the first thing about football, still liked living at Ferry Field. "The kids, and their friends that they had over, could play on the fields and I always knew where they were," she said. "It was great for Bob because there was no commute to work. And the lack of privacy wasn't a problem since we enjoyed meeting people, and there were lots of wonderful people."
There were a few nice perks, too, of being close to the athletes and coaches. One day, Bo Schembechler happened to be at Knight's Restaurant the same time that the Hurst family was there. Since Bob knew Bo well, he was able to introduce him to Terry's daughter and son-in-law, a thrill for them.'
Everyone has a "Bo story," and Terry recalls cleaning Bo's office as a teenager when he worked for his dad. "I broke a trophy one day and left him a note explaining what happened. The next day, he called me in, and I thought 'oh, no. I'm in trouble.' Bo asked me if it was an accident. I said that it was. He suggested that I get some glue and try to fix it, and to be more careful next time. I walked out relieved and said to myself, 'he isn't so bad.'"
Terry said he not only had fun, but learned from the athletes. "I saw that it was their dedication and focus that led to success. At practice, they would do the same thing over and over until they got it right. That approach applies to any aspect of life."
Gary admits that sometimes the kids might have been pests to the players or coaches or work crew. "But I loved growing up there," he said. "Whether it was playing on the tractors or watching them transport sod from Ferry Field to transplant in the stadium, it never got old. Even when I was older."
Bob and Lois now live in Florida. When their kids visit, as they all did recently, you can imagine that reminiscing is a big part of the conversation.
If you want to contact Terry about his life growing up, or about Michigan sports in general, email him at dr.terry.hurst@gmail.com.
Bob Horning, a lifelong Ann Arbor resident, is writing U-M game day stories for AnnArbor.com. If you have ideas for future columns, please email news@annarbor.com.