Posted on
Fri, Aug 2, 2013 : 2:59 p.m.
The Lunch Room vegan restaurant to open Tuesday in Kerrytown
By Lizzy Alfs
Between catering private group meals and opening a food cart at Mark's Carts, The Lunch Room owners have been sharing their love of vegan food with the Ann Arbor community for three years.
Now, after a year of preparations, Phillis Engelbert and Joel Panozzo are ready to open their brick-and-mortar restaurant in Ann Arbor's Kerrytown Market & Shops building.
The Lunch Room officially opens in the building at 403 N. Fifth Ave. at 11 a.m. on Tuesday, Aug. 6.
"It feels kind of unbelievable and it's really a fulfillment of a dream," Engelbert said.
The vegan restaurant, which is opening in the former Yamato restaurant space, has two outdoor dining areas, high top seating and table seating indoors and a full bakery counter.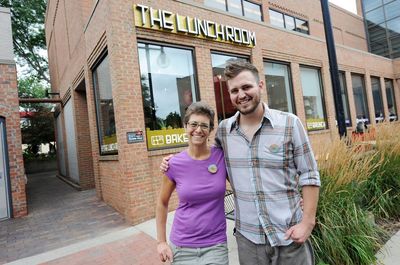 Melanie Maxwell | AnnArbor.com
"We're doing all our own breads and buns and cookies," Engelbert said. "We're making cupcakes and cinnamon rolls. We'll have rotating bakery items where some days there will be soft pretzels and some days there will be brownies."
Ann Arbor architects Lisa Sauve and Adam Smith of Synecdoche custom-built and designed The Lunch Room space.
"We got really ambitious and made everything," Sauve said. "Everything is custom because I think that's how it needed to be to really be The Lunch Room. They built the (food) cart from scratch and nothing off the shelf could do it justice."
Some menu items at The Lunch Room are: fresh summer rolls, miso soup, Greek salad, southwestern salad, Indian coleslaw, seaweed salad, tempeh reuben, BBQ tofu sliders, banh mi, mac & cheese, nachos, pad Thai, sushi, and desserts. (See the full menu)
The restaurant will serve breakfast on Wednesday mornings and brunch on Saturdays and Sundays.
Engelbert and Panozzo launched their vegan food cart at Mark's Carts in summer 2011. They left Mark's Carts to open the restaurant — a feat Engelbert said required a considerable amount of community support.
"We had the help of literally dozens of friends and community members and a lot of people who we met through the cart to put this place together," Engelbert said. "Everything from assembling the furniture and helping with the skewer art installation, and even washing the windows. We're really grateful."
The Lunch Room also launched their own version of crowdsourcing in the final weeks before opening to help raise capital for remaining renovations and supplies. People could buy pre-paid "Meal Plans" and get a 10 percent discount. For instance, someone could pay $100 up front, and get $110 worth of food at the restaurant.
Engelbert said The Lunch Room raised about $14,500 through the Meal Plans.
"The purpose was twofold: to thank our patrons for their patience and support, and to raise capital to get us through to opening," she said.
The Lunch Room's hours are: 10 a.m. to 3 p.m. on Sunday; 11 a.m. to 8 p.m. on Monday and Tuesday; 8 a.m. to 8 p.m. on Wednesday; 11 a.m. to 8 p.m. on Thursday; 11 a.m. to 10 p.m. on Friday; and 8 a.m. to 10 p.m. on Saturday.
Lizzy Alfs is a business reporter for AnnArbor.com. Reach her at 734-623-2584 or email her at lizzyalfs@annarbor.com. Follow her on Twitter at http://twitter.com/lizzyalfs.