Posted on
Mon, Sep 20, 2010 : 2:17 p.m.
The Rock may be fun to paint, but it's a pain for city, residents
By Cindy Heflin
University of Michigan students and alumni may cherish the tradition of painting the Rock at the corner of Hill Street and Washtenaw Avenue in Ann Arbor, but the practice has some unpleasant consequences for the city and nearby residents, The Michigan Daily reports.
For years, college students and others in the community have used the Rock in George Washington Park to profess their love for the university, their fraternity or sorority, or their intended — or to make a host of other statements. Those caught up in the tradition may not think about its undesirable aspects.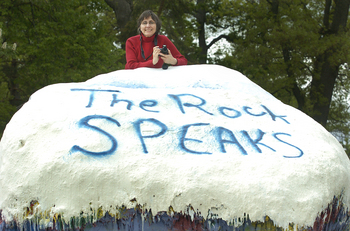 File photo
From the article:
"While the city never attempts to remove paint from The Rock itself, paint intended to decorate the boulder frequently ends up on city property, including sidewalks, trash cans and signs. In previous years, the city has spent hundreds, and at times thousands, of dollars to clean the area that will likely never remain pristine. ...
"In a January 2009 e-mail to Ann Arbor City Council members, Karla Henderson, former Ann Arbor field operations supervisor, reported that the city spent more than $2,500 in 2007 on removing graffiti at George Washington Park, according to a2docs.org — a website, which posts documents regarding the city of Ann Arbor obtained by residents and organizations."
Meanwhile some residents of the surrounding area have a less-than-affectionate view of the Rock.
Park Advisory Commissioner Gwen Nystuen, who lives in the area, said The Rock is a nuisance, The Daily reported. She told The Daily noise, trash and sidewalk graffiti are troublesome and that many residents consider the university icon to be an "eyesore."