Posted on
Tue, Mar 2, 2010 : 1:16 p.m.
The weather outside was frightful: Ann Arbor sets record for February snowfall
By Cindy Heflin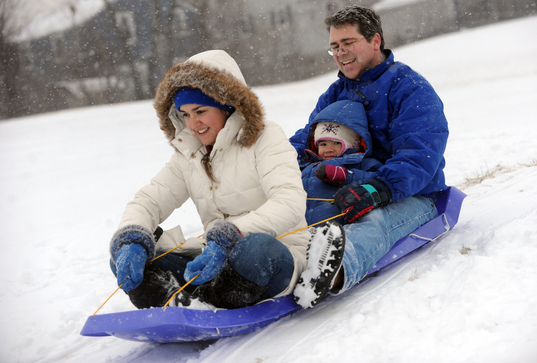 Melanie Maxwell | AnnArbor.com
If you thought you spent more time shoveling your driveway last month than in a normal February, you're right. 
The Ann Arbor area received a record 33.1 inches of snow in February, University of Michigan weather observer Dennis Kahlbaum said.
A few significant snowfalls and several smaller ones added up to a lot of snow, Kahlbaum said. The position of the jet stream is to blame, he said, noting the East Coast and even areas to our south were harder hit.
"The storm tracks have mostly been to our south, and we've avoided the real big ones, .. but the ones that have hit us have been quite efficient at giving us some fairly good snowfalls," he said.
The previous record for February was 27.4 inches, set in 1908. A typical February receives 10.4 inches of snow, Kahlbaum said. Measurable snow fell on 17 days last month, he said.
Ann Arbor has also received more snow for the season than the typical winter. So far, Ann Arbor has seen 56.0 inches of snow, Kahlbaum said. The typical seasonal total is 52.9 inches. 
But we're a long way from a seasonal record. That was set in the winter of 2007-08, when 89.8 inches fell.
You might think all that snow would mean record snowblower sales. Not so, said Jim Blakeman, co-owner of Larry's Mower Shop in Scio Township. The snow fell too late in the season to have much of an impact. 
"If it's after Christmas, everyone figures they can make it to spring," he said, noting large snows before Christmas usually give a boost to snowblower sales.
This month, the outlook is better. The National Weather Service predicts below-normal precipitation for March, along with near-normal temperatures. 
But don't put that snow shovel away just yet. A typical March brings about 8 inches of snow.